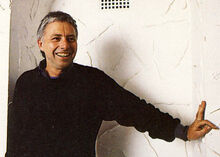 Harold Montgomory Budd (May 24, 1936 - December 8, 2020) was an American avant-garde composer and poet. Born in Los Angeles, his love of jazz (he briefly played drums with saxophonist Albert Ayler while serving in the Army) led Harold to get a degree in music composition. He released his second record, the Coltrane-inspired The Pavilion of Dreams, on Brian Eno's Obscure label in 1978. He had developed a style of playing piano he termed "soft pedal".
Links to Peel
Harold Budd released several ambient albums in the 70's, but it is not known whether Peel played any tracks from them according to available playlists from that period. However, in the 80's, he collaborated with one of Peel's favourites, the Cocteau Twins, who released The Moon And The Melodies that credited to him and the band members. Several of the album tracks were played by Peel on his shows in 1986, but by the end of the 80's, he rarely played any of Harold's material.
Shows Played
External Links
Community content is available under
CC-BY-SA
unless otherwise noted.