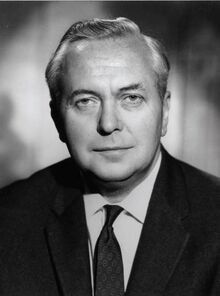 James Harold Wilson, Baron Wilson of Rievaulx, KG, OBE, PC, FRS, FSS (11 March 1916 – 24 May 1995) was a British Labour Party politician who served as Prime Minister of the United Kingdom from 1964 to 1970 and from 1974 to 1976. First entering Parliament in 1945, Wilson was immediately appointed the Parliamentary Secretary to the Ministry of Works and rose quickly through the ministerial ranks, becoming the Secretary for Overseas Trade in 1947 and being appointed to the Cabinet just months later as the President of the Board of Trade. Later, in the Labour Shadow Cabinet, he served first as Shadow Chancellor of the Exchequer from 1955 to 1961 and then as the Shadow Foreign Secretary from 1961 to 1963, when he was elected Leader of the Labour Party after the sudden death of Hugh Gaitskell. Wilson narrowly won the 1964 election, going on to win a much increased majority in a snap 1966 election. (...read more on wikipedia)
Links To Peel
Harold Wiison was British Prime Minister during the "Swinging Sixties". He came from Yorkshire, like Peel's wife Sheila and had a Merseyside connection, serving as MP for Huyton, near Liverpool, from 1950 to 1983. Although his avuncular, pipe-smoking image hardly made him a fashionable figure, he seemed to stand for a generation change in British politics, awarding MBEs to the Beatles and overseeing the educational expansion and social reforms which changed the lives of many young people, including those who listened to Peel's Perfumed Garden and his early BBC programmes.
But in August 1967, Harold Wilson's Labour government passed the Marine Offences Act, which effectively made pirate radio stations like Radio London, where Peel worked illegal. When the Act came into force, John and all the other DJ's and back staff were made redundant without the benefit of redundancy pay (even if some of the better-known offshore DJs, like Tony Blackburn and Kenny Everett, aware that the pirate ships were due to close down, had already left and found work at the BBC).. Fortunately for Peel, the BBC was preparing to open its new "pop" station, Radio One, a month later and was looking for DJs, as a result of which he eventually managed to get a role at the corporation which lasted for over 30 years.
Peel himself got into trouble with Harold Wilson when in November 1968 satirist John Wells guested on the Night Ride programme and criticised the then Prime Minister, accusing him of indifference to the suffering caused by the civil war in Nigeria (pictures of starving children in the rebel province of Biafra were at the time unavoidable, both in newspapers and on TV). Wilson, notoriously sensitive to media criticism, demanded an apology from the BBC, which Peel was obliged to read out on the following programme. In his International Times he commented bitterly:
Perhaps, it was suggested, I would like to write about the recent uproar over 'Night Ride', John Wells, Biafra and our wonderful Prime Minister. If you'd been violated and had the truth thrown in your face you'd probably not care to talk about it much either.[1]
Harold Wilson was more popular with ordinary voters than with some factions of the Labour Party, but he became a hate figure to those disappointed by the closedown of the pirate radio stations. The Move were taken to court and accused of libel in 1967 when they (or their management) promoted their single "Flowers In The Rain by circulating postcards showing Wilson sitting nude on a bed. The surprise victory of the Conservatives in the 1970 General Election has been seen as a result of young first-time voters choosing the Tories because of dissatisfaction with Radio One as a replacement for the pirates. But Peel seldom seemed nostalgic for the pirate radio era, gradually found his niche at the BBC and remained a Labour supporter for the rest of his life.
External Links
Community content is available under
CC-BY-SA
unless otherwise noted.