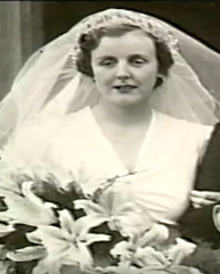 Harriet Ravenscroft (born Joan Mary Swainson) (27 April 1915 - July 1992) was Peel's mother: she once described him as her least favourite son. She married Robert Ravenscroft in 1938 and got divorced in the 50's: she subsequently changed her name from Joan to Harriet. She had a brief relationship with Sebastian Shaw, the Star Wars actor, in the 80's, and had an arrangement to see him on a four day rotating basis while he was going out with a classical music and opera agent named Joan Ingpen. (Interestingly, opera was one of Harriet's passions.) In Margrave Of The Marshes Peel wrote extensively about his relationship with his mother, and related that she would regularly beat him when he was a child. He described her as spending much of her money on clothes and describing some of the outfits she wore as a source of acute embarrassment when she visited him and his brother Francis whilst they were studying at Shrewsbury School.
She took JP took him to his first ever concert, which featured the Obernkirchen Children's Choir, in 1954 and would put up many musicians invited by Peel, including the Misunderstood, at her home in Notting Hill, London. He would also often spend the night there when he was working late on his BBC Radio One shows.
In the early years of Peel's BBC career she showed a curiosity about the hippy culture which Peel advocated, writing him a letter on the subject which he quoted in one of his 1968 Perfumed Garden columns for International Times, before revealing that "The writer of the second letter is in her mid-fifties. She's never had to work, comes from a good family in the North.....She likes gardening, Leonard Cohen, the Pink Floyd (she really does).......She's my mother". [1] Harriet Ravenscroft also wrote a letter to Oz magazine, praising the crowd behaviour at the 1969 Rolling Stones concert in Hyde Park [ref]. Although she didn't follow up this interest in youth culture, she kept up a close relationship with John and Sheila and was often mentioned in Peel shows (see below).
Shows Mentioned
1967
1968
1969
1976
1979
1980
1986
1987
1988
1989
1990
1991
1992
1993
1996
1997
1999
2001
2002
2003
Others
External Links
Community content is available under
CC-BY-SA
unless otherwise noted.