Head of David are a British heavy metal band that featured vocalist Stephen R. Burroughs and ex-Napalm Death member Justin Broadrick (later of Godflesh and Jesu). The band's sound paved way to various music genres, including industrial metal, grindcore and noise rock.
(Read more at Wikipedia.)
Links To Peel
"The Head Of David have been described as visceral, noisy, awesome, volcanic, noisy, brutal, grinding and noisy again. ... Members of the band explained to me ... that they have, as I understand it, passed through heavy metal and emerged with a distillation of the best of that creaking form. ... I thought they were just dandy."
(John Peel reviews HOD live at the Zap Club, Brighton, Observer, 5 Oct 1986)[1]
Signed to the Blast First alternative rock label much lauded by Peel, HOD recorded four sessions for the DJ in the second half of the 1980s, with the middle two repeated as best of year selections, at the end of 1986 and 1987. Justin Broadrick briefly joined on drums from fellow Birmingham area session band Napalm Death for the third Maida Vale set but quickly moved on to front Earache outfit Godflesh, who would also record one session.
Head Of David's debut album, 'LP' (1986), was produced by Peel sessions stalwart Dale Griffin and their second, 'Dustbowl' (1988), by show mainstay Steve Albini.[2] [3]
Festive Fifty Entries
Sessions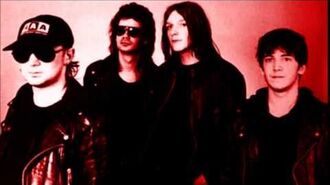 Four sessions. #1 and #2 released on White Elephant LP, 1989, Blast First. Justin Broadrick also one session with Godflesh (1989).
1. Recorded: 1986-04-22. Broadcast: 30 April 1986. Repeated 20 May 1986.
Snuff Rider M.C. / Joyride Burning X / Shadow Hills California / Newly-Shaven Saint
2. Recorded 1986-09-23. First broadcast 06 October 1986. Repeated 06 October 1986, 17 November 1986, 23 December 1986.
Jack Nicholson / Pierced All Over / Metal Texas Psych-Out
3. Recorded 1987-07-07. First broadcast 15 July 1987. Repeated 04 August 1987, 09 November 1987, 30 December 1987.
Bugged / Snake Domain / Tequila / Skindrill
4. Recorded 1989-05-28. First broadcast 15 June 1989. Repeated 20 July 1989.
Moonshine / Caprice / Wildwood / Snake Hands Forever
Other Shows Played
1986
1988
1989
See Also
External Links
Community content is available under
CC-BY-SA
unless otherwise noted.