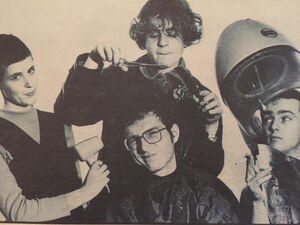 Heavenly were an indie twee pop band, originally forming in Oxford, England in 1989. Amelia Fletcher (vocals/guitar), Mathew Fletcher (drums; Amelia's brother), Peter Momtchiloff (guitar) and Robert Pursey (bass) had all been members of Talulah Gosh, a key member of the C86 scene. In 1996, shortly before the release of their last album, Operation Heavenly, Mathew Fletcher, the band's drummer and Amelia's brother, committed suicide. The remaining members announced that the band name Heavenly was to be retired, but that they would continue, using the name Marine Research, a moniker under which they released a single album, 1999's Sounds From The Gulf Stream, on K Records. Afterwards, Marine Research dissolved. The band's core members reformed in 2002 as Tender Trap, releasing their debut album, Film Molecules, on K Records once again.
Links to Peel
Peel played some of Talulah Gosh's tracks in the late 80's and was aware of some of the members, including Amelia Fletcher, who collaborated with many of Peel's favourites, including the Wedding Present. She later joined with Heavenly and the group got substantial airplay by Peel through the 90's, including a couple of sessions, as well as an entry in the 1993 Festive Fifty. After the death of drummer Mathew Fletcher and the band changing their name to Marine Research, Peel continued supporting the new band with airplay and a couple of sessions, as well when the core members of the group reformed as Tender Trap in 2002.
Festive Fifty Entries
Sessions
1. Recorded: 1991-03-17. Broadcast: 14 April 1991. Repeated: 08 June 1991
And The Birds Aren't Singing / So Little Deserve / Escort Crash On Marston Street
2. Recorded: 1994-04-09. Broadcast: 07 May 1994. Repeated: 05 November 1994
Sacramento / Itchy Chin / Dumpster / Sperm Meets Egg So What?
Other Shows Played
1990
1991
1992
1993
1994
1996
External Links
Community content is available under
CC-BY-SA
unless otherwise noted.