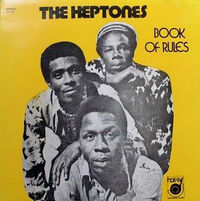 The Heptones are a Jamaican rocksteady and reggae vocal trio most active in the 1960s and early 1970s. They were one of the more significant trios of that era, and played a major role in the gradual transition between ska and rocksteady into reggae with their three-part harmonies. The Heptones were contemporaries of the Wailers and the Maytals.
Leroy Sibbles, Earl Morgan and Barry Llewellyn first came together as "The Hep Ones" in 1965 in Kingston but soon changed their name to "The Heptones". They recorded for major Jamaican record producers at the time, with a number of Jamaican hits for Studio One, beginning with "Fattie Fattie", in 1966. After moving on to record with Joe Gibbs and Harry J in the early 1970s, they had a big hit with "Book of Rules" in 1973. In 1975, The Heptones signed an album deal with Island Records, resulting in two albums: "Night Food" (1976) and "Party Time" (1977). The group toured England with Toots & The Maytals to support Night Food's release. In 1977, The Heptones recorded "Party Time" with Lee "Scratch" Perry, during Black Ark's peak period. Party Time also included remakes of Studio One tunes, as well as Bob Dylan's "I Shall Be Released", along with newer compositions such as "Sufferers' Time".
Sibbles left the group once more in 1978 to start a successful solo career.
(Read more at Wikipedia.)
Links to Peel
As one of the seminal vocal groups of early reggae, the Heptones were played regularly down the decades by John Peel from the mid-1970s. On his 21 November 2002 show, the DJ said he planned to put their "Country Boy (New Style)" single in his record box for upcoming live gigs.
Peel also gave airtime to solo releases by original Heptones lead singer Leroy Sibbles, described by writer Lloyd Bradley in "Bass Culture" as "one of the true giants of Jamaican music", especially for his central role in the musical output of Studio One with Clement "Coxsone" Dodd.[1]
Festive Fifty Entries
Sessions
Other Shows Played
1970s
1980s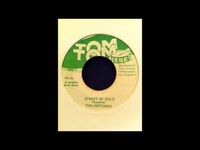 1990s
2000s
Leroy Sibbles
See Also
External Links