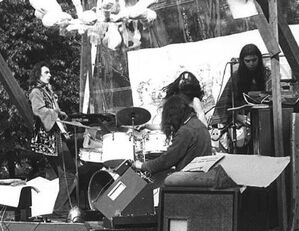 Here & Now are an English psychedelic/space rock band formed in early 1974. They have close connections with the band Gong and in 1977/1978 worked with Gong's Daevid Allen and Gilli Smyth under the name Planet Gong. The first version of the group was co-founded in London by drummer/vocalist Keith Dobson later known as "Kif Kif Le Batteur", guitarist/keyboardist José Gross, bassist Franco and others in March 1974. In 1977, Daevid Allen and Gilli Smyth recruited the band to tour with them under the name Planet Gong, and this combination released a live album Live Floating Anarchy 1977 and a single "Opium for the People"... (read more on wikipedia)
Links to Peel
The band met John Peel by chance at an open air gig in 1978 at Meanwhile Gardens. So impressed with their performance that Peel asked the band to do a session for his show, which they did. The group got airplay by Peel in the late 70's, but by the time the 80's arrived, space rock became outdated and the band rarely got played him. In 1993, Peel played by request the band's reggae version of David Bowie's The Man Who Sold The World on his BFBS show.
Sessions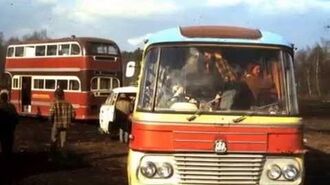 1 . Recorded: 1978-11-08. First Broadcast: 16 November 1978. Repeated: 12 December 1978
This Time / What You See Is What You Are / Oh My God Can Be So Hard We Tried And We Tried But Couldn't Find It / Chicken Marimba
Other Shows Played
1979
1993
External Links
Community content is available under
CC-BY-SA
unless otherwise noted.