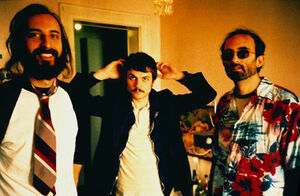 Herman Düne is a French group from Paris established in 1999 as a trio with brothers David-Ivar and André Benouaisch (both brothers born in Paris to a Swedish mother and Moroccan father) singing and writing, and drummer Omé, David Ivar's childhood friend. In 2000, they released their debut album, They Go To The Woods. In 2001, drummer Neman joined Herman Dune for their following albums, Switzerland Heritage, Mash Concrete Metal Mushroom, Mas Cambios, and Not On Top. Herman Dune then released Giant in 2006, Next Year In Zion in 2008, and Strange Moosic in 2011. In 2006, Andre left the band after recording songs for Giant.
After a hiatus and relocation to San Pedro, Los Angeles in 2015, David Ivar released Sweet Thursday on Santa Cruz Records and Santa Cruz Gold on Santa Cruz Records, both in 2018. Between 2013 and 2018, while still performing as Herman Dune, David Ivar also performed as Black Yaya, with the eponymous album Black Yaya and the album Rattle Snake, a concept album about Bonnie and Clyde. Since 2006, André has been pursuing his own solo career as Stanley Brinks. Omé earned his MD and PhD and works as a physician at Hôpital Bichat-Claude-Bernard in Paris. Néman is the frontman of the band Zombie Zombie.
Links to Peel
In an 2007 interview with the SXP website, David and Neman acknowledged the importance of John Peel in their career: [1]
SXP: I came to you through John Peel
Neman: Without John Peel we wouldn't have the chance to play in England and have people follow us. Without any record label behind us he just decided he liked us and it was: any time you guys want to come back, you can. We can't be thankful enough.
SXP: I wondered if the fact that we don't have people like him championing you or your type of music now makes it harder to broaden your audience?
David: Well, John Peel was a great man I think. He would play our records [and] he didn't even care if it has been released already or if it was on a label in England or if it was just a CD-R. It wasn't intended as a promotional thing and he played it to have a good radio show, which he succeeded to do. He always asked for exclusive songs for the sessions so it's not promotion for an album. It's a lot more helpful in getting your record across to have it played on mainstream radio: that would be a good tool to widen an audience. But the fact that we met John Peel and he had us on his show is great.
Neman: It was also a chance to have good quality recordings in the BBC studios. That was the idea of our new album too. We recorded it the same way as when we recorded Peel sessions, everything's recorded live, and I think we got it from him.
David: It's his fault! The last session we recorded sounded very good; it was with the producer who produced the Hefner records. We had a soundproof booth for the vocals and the guitar, and of course it's the BBC so it's the best microphones you can find and we were like: we should have an album that sounds this way because we have all those sessions and they sound better than our albums.
Neman: I think we even asked them if we could record it there but you can't.
Festive Fifty Entries
Sessions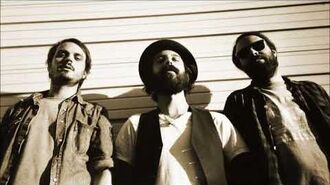 1. Recorded: 2000-09-03. Broadcast: 10 October 2000. Repeated: 15 March 2001
Numbers 3 / Don't Look Too Deep Into My Eyes / How Things Slide / Stealing The Bride (Part 1) / Lazy Boys (Don't Stand A Chance)
2. Recorded: 2000-12-21. Broadcast: 21 December 2000
Channukah In Florida / unknown title
3. Recorded: 2002-02-17. Broadcast: 11 September 2002
The Static Comes From My Broken Down Heart / Stick Around / Your Favourite Song / Catcher In The Rye / If Someone Loves You
4. Recorded: 2002-05-15. Broadcast: 15 May 2002
Garden Song / Sticky Fingers / Red Blue Eyes / Little Architect / Big Bad Man / Expect The Unexpected / Going To Everglades / Herman Dune Rider / Teddy Monkey Bear / Songs About Songwriting Suck / With A Tankful Of Gas (encore)
5. Recorded: 2003-01-08. Broadcast: 29 January 2003
Run Like Crazy / Dust Off Your Heart / What Are You / The Neighbours / Air Drum To Pavement
6. Recorded: 2003-05-15. Broadcast: 15 May 2003
Songs For The Family / Wake Up To The World / At Your Luau / Nothing Here / Lover Lover / Your Priorities / HD-Rider / Show Me The Roof / Winners Lose
7. Recorded: 2004-01-08. Broadcast: 05 February 2004
Sheer Wonder Baby / Drop Of Dew / Time Of Glory/NYC / Pet Rabbit / Will You Still Love Me Tomorrow
Other Shows Played
2000
2001
2002
2003
External Links
Community content is available under
CC-BY-SA
unless otherwise noted.