(This page refers to High Fidelity and the singer Sean Dickson, who performed High Fidelity songs for Peel's show sometimes under his own name.)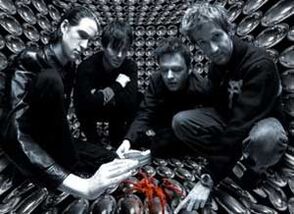 The High Fidelity were an indie experimental dance-pop band, formed in 1995 by Sean Dickson, formerly of The Soup Dragons. Dickson started the group when High Times magazine asked him to record a track for a cannabis-themed covers compilation album, Hempilation: Freedom Is NORML. Their debut album, Demonstration (2000), was recorded largely in Dickson's bedroom, with Adrian Barry (bass), Paul Dallaway (guitar) and Ross McFarlane (drums). The album was later augmented with a number of orchestral arrangements recorded in India. Their single "Luv Dup" reached #70 on the UK Singles Chart in July 1998. The group disbanded after 2001, when lead singer Sean Dickson decided to be a dance DJ under the name of HiFi Sean.
Links To Peel
The band recorded a number of sessions for John Peel's BBC Radio 1 show, introducing the use of the omnichord, a vintage synthesiser, with which they performed a number of songs including a version of "Silent Night". Peel shared the band's enthusiasm for the instrument, and when they gave him one as a 60th birthday present it led to Peel co-writing and performing on one of the tracks on the band's second long-player, 2001's The Omnichord Album - 'Pig Might Fly,' about his wife (Sheila Ravenscroft, whose nickname was the Pig, because her snort when laughing resembled the noise of a pig). Dickson also performed High Fidelity songs under his own name, like in 1998 and 2001, for sessions on Peel's show.
In 1999, Peel visited Sean Dickson and met his father in Scotland during the filming of the TV documentary Sounds Of The Suburbs: Lanarkshire. The High Fidelity track "Lazy B" subsequently appeared on the "John Peel's Sounds Of The Suburbs" double CD compilation.[1]
Sessions
1. Recorded: 1998-03-17. Broadcast: 05 May 1998. Repeated: 15 October 1998
My Frequency / Whitey / Lazy B / Pelvic Rock
2. Recorded: Unknown. Broadcast: 02 December 1998 (under the name of Sean Dickson)
Cola Coca / Substitute / Commercial Suicide / Omnichord 4.AM
3. Recorded: 1999-12-08. Broadcast: 08 December 1999
4. Recorded: 2001-07-05. Broadcast: 05 July 2001 (under the name of Sean Dickson)
Scream If You Wanna Go Faster / Two Up Two Down / Electromale / Teenage Kicks / Omnichord 4.AM
Live
Recorded in Glasgow Art School, in concert as part of Music Live: 1999-05-26. Broadcast: 26 May 1999
2 Up 1 Down
The National Anthem
I Thank U
Devil Got A Shell Suit
Luv Dup
Oddysey Of A Psychonaut
Recorded in the Union Chapel, London: 2000-03-29. Broadcast: 29 March 2000
Nyc
Greeneye Monster
The National Anthem
Addicted To A TV
Devil In A Shellsuit
Unsorry
I Thank U
Luv Dup
Oddysey Of A Psychonaut
Other Shows Played
1997
1998
1999
2000
2001
2004
Others
External Links