(Related article: Heysel)
The Hillsborough disaster at the semi-final FA Cup tie between Liverpool and Nottingham Forest football clubs on 15 April 1989 at Hillsborough Stadium in Sheffield, England, resulted in the deaths of 96 Liverpool fans — 94 died on the day and two more died later in hospital. Another 766 people were injured. It remains the deadliest stadium-related disaster in British history and one of the world's worst-ever football disasters. (Read more at Wikipedia.)
Peel on Hillsborough
(From a radio interview sometime in the early 90s, rebroadcast as part of the Purely Peel tribute programme. For a full transcript, see Interview: On Liverpool FC, Heysel, Hillsborough. Peel discusses Hillsborough after recalling the nightmares he had after the Heysel disaster of 1985.)
... But then of course with the events in Sheffield, the first night, the nightmares after that, the nightmares just came back. I mean, really worse than ever. I had I think the most terrible night of my life, you know, that night. And nothing that has ever, ever happened in my life upset me as much as the Hillsborough thing.

And I said on the radio - because I can talk about it now, for reasons that I will be able to explain in a minute – but I just simply couldn't talk about it at all. I mean, if I saw anything on television or anything I just burst into floods of tears, just cried uncontrollably the whole time. And I said on Radio 1, because I did a programme here on the Sunday night, which was very, very difficult, really difficult to do, but I got through that. And then on the Monday I had to go to Radio 1 and started to do the programme and just broke down, you know, my sort of opening remarks. But I was able to say at the end of the programme, which was true, that I never imagined it would be possible to be as upset as I was over the deaths of people I didn't know.

And Sheila was actually getting quite worried about it, because I just simply could not stop crying. And anything about it on television… I was hugely impressed by – and that made me cry as well, you know – the kind of dignity of the people of Liverpool really, and members of the team and Kenny Dalglish and so. It all affected me very much indeed.

And then the day… I kept wanting to go up to Anfield and it just seemed like a silly thing to do. I'd got so much work to do that I didn't think I could. But then on the last day when the ground was open I got up on Sunday morning and we had a friend of mine from Poland staying, which was helpful I think, because he obviously didn't understand really how I felt about it. At least he didn't – he did when he came back again. But Pyotr and I got up at quarter to four on the Sunday morning and we drove up to Anfield. We queued for an hour and a half. It was… I can't really tell you quite why, but it was an incredibly cleansing sort of experience. Just because …

I've always said that supporting Liverpool was like a substitute for religion, because I'm not a religious man – and it has been really, with the extra bonus that you see the truth of your beliefs demonstrated on the football pitch every Saturday afternoon, you know. And of course Liverpool's domination has rather proved, you know, that I'm right.

But going around the ground and seeing what people had done, and that in a sense, that other people felt, people would say they were as mad in their beliefs as I was – but was terribly affecting. And I came away much calmed by having been there. So I was very, very glad that I had gone there, because I think otherwise I should have been in a bit of a state still.
You'll Never Walk Alone
Peel chose an Aretha Franklin performance of You'll Never Walk Alone to play as a tribute on his first radio show after Hillsborough.[1] The DJ used Franklin's rendition of the song to lead his set at the 1997 Hillsborough Justice Concert at Liverpool's Anfield ground. On 15 April 1999, he played the same version on his show again to mark the tenth anniversary of the tragedy.
Hillsborough Justice Concert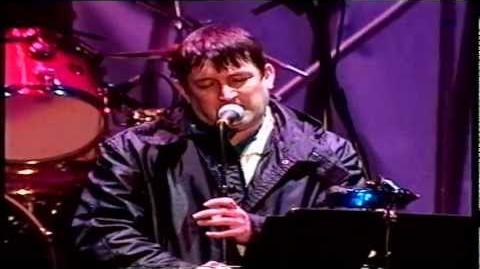 Peel took part in the 1997 Hillsbourgh Justice Concert at Anfield. For his description of the event, see 23 May 1997 (BFBS). He also appears briefly at the start of the TV coverage, broadcast on Rock The Kop: The Hillsborough Justice Concert. A review of the concert can be read here.
After the original verdict of accidental death was finally quashed in 2012, an inquests jury concluded in April 2016 that the 96 Liverpool fans who died in the Hillsborough disaster were unlawfully killed.[1]
See Also
Links
References
↑ See the online Peel biography at the BBC's Keep It Peel site. The programme was presumably on 17 April 1989, the Monday two days later.
Community content is available under
CC-BY-SA
unless otherwise noted.