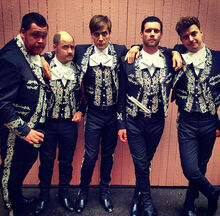 The Hives are a Swedish rock band that rose to prominence in the early 2000s during the garage rock revival. Their mainstream success came with the release of the album Veni Vidi Vicious, containing the anthem "Hate to Say I Told You So". The Hives have released five studio albums: Barely Legal (1997), Veni Vidi Vicious (2000), Tyrannosaurus Hives (2004), The Black and White Album (2007) and Lex Hives (2012). They have one compilation album, Your New Favourite Band (2001) and they have issued a live DVD, Tussles in Brussels (2005).
All songwriting except covers on the band's albums are credited to "Randy Fitzsimmons". The band claim Fitzsimmons is an honorary "sixth Hive," who along with writing their music, discovered and manages the band. Randy Fitzsimmons is a registered pseudonym for Niklas Almqvist, who formed the group in 1989 under a different name until 1993 when the band changed its name to the Hives.
Links to Peel
Hives started to get airplay on Peel's shows in late 2001 during the garage rock revival and their session in that year name checked the DJ by Howlin' Pele of the Hives who mentioned the words 'Yon Peel' on their first session track. Peel responded by saying "Yon Peel is it? Well, that'll get me back for mispronouncing everything about them."
Festive Fifty Entries
Sessions
1 . Recorded: 2001-10-22. Broadcast: 21 November 2001
Hate To Say I Told You So / Lost And Found / Barely Homosapien / Howlin' Pelle Talks To The British People
Other Shows Played
2001
2002
External Links