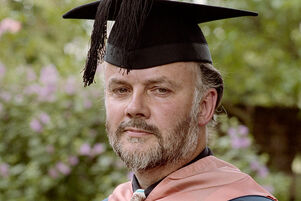 An honorary degree, in Latin a degree honoris causa ("for the sake of the honour") or ad honorem ("to the honour"), is an academic degree for which a university (or other degree-awarding institution) has waived the usual requirements, such as matriculation, residence, a dissertation, and the passing of comprehensive examinations. The degree is typically a doctorate or, less commonly, a master's degree, and may be awarded to someone who has no prior connection with the academic institution or no previous postsecondary education. An example of identifying a recipient of this award is as follows: Doctorate in Business Administration (Hon. Causa). The degree is often conferred as a way of honouring a distinguished visitor's contributions to a specific field or to society in general.
Links to Peel
Peel received many honorary degrees, including the following:
MA (Master of Arts)
University of East Anglia (1989) [1]
Doctorates
Honorary Degrees
Fellowship
Liverpool John Moores University (unknown year)
See Also
External Links
References
↑

Anglia Polytechnic University was a UK government recognised body that gave awards between 1992 and 2005. Its qualifications are verified by Anglia Ruskin University.
Community content is available under
CC-BY-SA
unless otherwise noted.