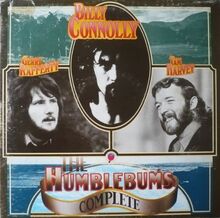 The Humblebums were a Scottish folk rock band, based in Glasgow. Its members included Billy Connolly, who later became a renowned stand-up comedian and actor, guitarist Tam Harvey and the singer-songwriter Gerry Rafferty. The band was active from 1965 to 1971. Connolly co-founded the band with Harvey in 1965 and played in the pubs and clubs around the city, most notably the Old Scotia Bar. Connolly sang, played banjo and guitar, and entertained the audience with his humorous introductions to the songs. Harvey was an accomplished bluegrass guitarist.
Rafferty joined later and for a short time they performed as a trio. However, the nature of the act had changed and Harvey departed shortly afterwards. The remaining duo broke up in the early 1970s after recording two albums of material: The New Humblebums and Open Up the Door, the former graced by a cover by John "Patrick" Byrne, marking the beginning of a long working relationship between Byrne and Rafferty. Connolly embarked on a solo career while Rafferty recorded a low-impact solo album, Can I Have My Money Back?, then formed Stealers Wheel with Joe Egan before eventually emerging as a major recording act with "Baker Street". (Read more at Wikipedia)
Links to Peel
Peel discovered the Humblebums in 1969, at a time when the rock press was beginning to talk of "superstars" and "supergroups", who tended, because of their wealth and fame, to distance themselves from the audience. Like Peel's discoveries Siren, the Humblebums seemed everyday and down-to-earth, which appealed to him. He liked their records and was especially fond of Gerry Rafferty's song "Please Sing A Song For Us" which he played numerous times in the early 1970s and revisited in 1991. The group included it in the sole session they recorded for his show. Another favourite song of Peel's, "Her Father Didn't Like Me Anyway", was written by Rafferty and recorded by the Humblebums before being covered by Finbar & Eddie Furey, whose version, released as a single, was repeatedly played by the DJ in the summer of 1972..
The Humblebums also performed a gig that was broadcast as part of John Peel's Sunday Concert in 1970. After the group split, Gerry Rafferty formed Stealers Wheel, who made succesful records and recorded five sessions for Peel between 1972 and 1975. He later had a solo career and made a session for Peel's show under his own name in 1973. Billy Connolly also issued a solo LP in 1972, but became one of Britain's best known stand up comedians in the 1970s and later an internationally famous actor - while retaining fond memories of his early years on the Scottish folk club scene. He was a fan of Peel favourites the Incredible String Band, who at the start of their career performed regularly in Glasgow, in the same clubs as the Humblebums. Hovever, Peel never played any of Billy Connolly's comedy work, even though his breakthrough recording (in 1973) was a live double LP on the Transatlantic label, home of many of the DJ's folk favourites. Nevertheless, Connolly praised Peel on This Is Your Life and proclaimed him as his hero in an interview for the Independent newspaper in 2012. [1]
Sessions
1. Recorded: 1970-02-23. Broadcast: 07 March 1970. Repeated: 13 June 1970
Please Sing A Song For Us / Harry / Rick Rack / Mother / Everybody Knows That
Other Shows Played
1970
1973
22 May 1973: Sing A Song For Us (LP – The Humblebums) Transatlantic
1991
26 May 1991: 'Please Sing A Song For Us' (LP 'Humblebums') Liberty
External Links