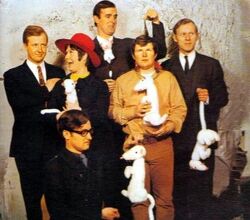 I'm Sorry, I'll Read That Again (1963-1973, with a one-off revival in 1988) was a comedy sketch show that was broadcast initially on the BBC Home Service before moving to the Light Programme (renamed Radio 2 in 1967). The show took on a more satirical tone as it progressed, lampooning real characters such as Eddie Waring and Hughie Green and creating a memorable roster of fictional ones (such as the huge and oversexed Lady Constance De Coverlet). Its cast included all three future members of The Goodies (Bill Oddie, Graeme Garden and Tim Brooke-Taylor) and John Cleese, latterly of the Monty Python team. It delighted in running gags and a rapid succession of truly awful old jokes (for example, in a sketch about Helen Of Troy: "if at first you don't succeed..." (pause for long, loud groan of anticipation of the punchline from the audience) ".... Troy, Troy again!"). In fact, the audience became so noisy and rumbustious that the later series are more like rock concerts than light entertainment. All of the programmes were taped by the BBC, survive, and are still repeated (usually on the archive station Radio 4 Extra) to this day.
Links To Peel
Even though it seems Peel did not mention the show on air and did not appear in it, he was referenced on more than one occasion. In The Taming Of The Shrew (Series 8, Episode 1), the joke about fully frontal radio is extended to him (Drop Gear, with John Peel), and he is more extensively lampooned in Starrek (Series 9, Episode 3). The team at the fictional Radio Prune are forced to make an alternative to BBC Radio One, calling it Radio Mindless (Cleese: "You can't get away with just noise!". Oddie: "Why not? Radio One does!"). Impressions of Jimmy Savile and Terry Wogan lead into a Round Table parody:
Oddie: "John Peel, you've been very quiet. Are you dead?"
Garden (as JP): "Well, you know, I just like to talk about the music."
Oddie: "That's the last time you come on this show!"
The song D'ye Ken John Peel was used as a parody of the DJ on I'm Sorry I'll Read That Again which contained the words:
D'ye ken John Peel with his voice so grey?
He sounds as if he's far far away;
He sends you to sleep at the end of the day;
'til you're woken up by Tony Blackburn in the morning.
Two compilation LPs were made available in addition to numerous cassettes of full shows, and the recent John Peel Archive project revealed that he had these in his collection.
See Also
Links