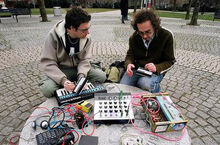 Isan (sometimes written isan or ISAN) are an English electronic music duo. The name was initially explained as Integrated Services Analogue Network - a play on ISDN, reflecting their preference for analogue synthesisers.
Robin Saville and Antony Ryan met in Leicester in 1996, and have released several singles and albums since then, mainly for Morr Music. Saville now lives in Leiston and Ryan, who is also part of Seavault, in Fredericia, Denmark - since the band's inception, the two musicians have lived in different parts of Europe, working separately and collaborating using the internet.
Links to Peel
One of the many IDM artists which ISAN were part of that Peel played on his shows in the late 90's and early 00's. The group did a session for Peel's show in 1999 and their live set at the Big Chill Festival in 2004 was also broadcast on his programme.
Sessions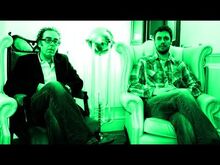 1. Recorded: 1999-02-14. First Broadcast: 07 April 1999
Saysoft / Timbremaid / Little Boy Sitting Up In Bed Looking At Moon / Paintchart
Live
Recorded Live Sets from the Big Chill Festival. First Broadcast: 03 August 2004
Live from The Big Chill 2004
Other Shows Played
1998
1999
2000
2001
2002
2004
See Also
External Links