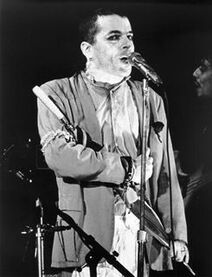 Ian Robins Dury (12 May 1942 – 27 March 2000) was an English singer-songwriter and actor who rose to fame during the late 1970s, during the punk and new wave era of rock music. He was the lead singer of Ian Dury and the Blockheads and before that of Kilburn & The High Roads. Originally fronted by lead singer Ian Dury as Ian Dury and the Blockheads, the band has continued to perform since Dury's death in 2000 under the name of The Blockheads. Current members include Derek "The Draw" Hussey (vocals), Chaz Jankel (keyboards and guitar), Norman Watt-Roy (bass), Mick Gallagher (keyboards and piano), John Turnbull (vocals and guitar) and John Roberts (drums).
Links to Peel
Ian Dury And The Blockheads were signed to Stiff record label, a company that gave Peel playlists of Elvis Costello, The Damned and many other punk acts. The group were given a chance to do a session for Peel's show in 1977, which they took up and a year later, listeners voted the band's Sex & Drugs & Rock & Roll at number 27 in the 1978 Festive Fifty. Interestingly the song was banned by the BBC and when the single was released in 1977, Peel and Anne Nightingale, who promoted the group on their shows, were allegedly compelled to play the mildly salacious B-side "Razzle In My Pocket". By the end of the year, it seemed the BBC changed its mind and the song was played by Peel, when the group did a session version of the track.
At the end of the decade, it seemed Peel lost interest in Ian Dury when he described his track, Reasons To Be Cheerful Pt 3, as one of his least favourite records of the year on his 30 July 1979 show. Moreover, when Dury succumbed to cancer in 2000, it seems John did not take the opportunity to commemorate his death in any way.
Festive Fifty Entries
Sessions
1. Recorded: 1977-11-30. Broadcast: 12 December 1977. Repeated: 08 September 1978 (Paul Gambaccini)
Sex And Drugs And Rock And Roll / Clevor Trever / Sweet Gene Vincent / Blockheads
Other Shows Played
1978
1999
TOTP
See Also
External Links
Community content is available under
CC-BY-SA
unless otherwise noted.