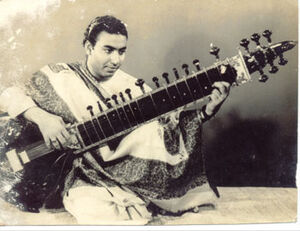 Ustad Imrat Khan (17 November 1935 - 22 November 2018), commonly known as Imrat Khan was an Indian sitar and surbahar player and composer. Ustād (abbreviated as Ust., Ut. or Ud.; from Persian استاد) is an honorific title for a man used in the Middle East, South Asia and Southeast Asia. It is used in various languages of the Muslim World, including Persian, Urdu, Bengali, Punjabi, Pashto, Turkish, Indonesian, Malay and Kurdish.
Imrat was the younger brother of sitar maestro Vilayat Khan. Khan was born in Calcutta, India into a family of musicians tracing its pedigree back for several generations, to the court musicians of the Mughal rulers. His father was Enayat Khan, recognised as a leading sitar and surbahar player of his time, as had been his grandfather, Imdad Khan before him. His father died when Imrat was a child, so he was raised by his mother, Bashiran Begum and her father, singer Bande Hassan Khan. In 1944, the family moved with Vilayat Khan, Imrat's elder brother, to Bombay where both the brothers learned extensively from uncle Wahid Khan. In 1952 Vilayat and Imrat moved in together in Calcutta. They performed together for many years. From the 1960s onwards, Khan performed and recorded solo, playing both sitar and surbahar.
Links to Peel
During the late 60's, classical Indian music started to gain popularity in the west, especially amongst the hippie movement, which Peel was a follower off. George Harrison use of Indian classical music used on some Beatles tracks were later copied by other artists. Peel responded with the trend by playing many classical Indian tracks, including those from Ravi Shankar and Imrat & Vilayat Khan. He even had Imrat and his brother Vilayat to do sessions for his show. By the early 70's, classical Indian music was going out of fashion in the west and Peel rarely played much of the material, that he used to espouse in the late 60's.
Sessions
1. Recorded: 1969-07-01. Broadcast: 06 July 1969
2. Recorded: 1970-04-14. Broadcast: 18 April 1970
Other Shows Played
None, according to available playlist
External Links
Community content is available under
CC-BY-SA
unless otherwise noted.