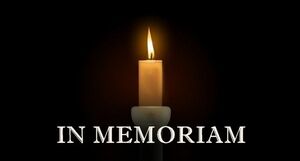 "I prefer to remember those who have died, whether relatives, friends, rock stars or a combination of the three, in their proper context, filling some greater or lesser niche in everyday life, rather than distorting my memory of them in a welter of terminal sentiment.. This is why we never did anything extreme when Jim Morrison or Paul Kossoff died, not even when Hendrix died. We (John Walters and I, that is) still play their records on air from time to time - always will, I hope, thinking of them in the same way that I sometimes think of my Dad." (Peel quoted, presumably from his diaries, by Sheila in Margrave Of The Marshes, Bantam Press, 2005, p. 371.)
Despite his assertion above, and, for example, his neglecting to broadcast anything by Elvis Presley on the occasion of his death on 16 August 1977, John did on occasion play music on his show or give memorial in print when a significant figure in his life passed away. This page is intended to be an overview of the ways in which John Peel commemorated the deaths of people connected to his programmes in some way, whether they were performers he played or admired, or who had worked with him or known him in some capacity. Date of decease is given after the artist name, followed by the music played in tribute. Please fill in any unknown or missing details.
List Of People Commemorated By Peel
A-C
D-F
G-I
J-L
M-O
P-R
S-U
V-Z
Memorials In Print
Footnotes
↑ Although this play of the song at the end of the show is well-documented, it is little mentioned that Peel also played Ken Colyer's 'If I Ever Cease To Love' at the start, remembering that he and Walters had once both bought the same record.