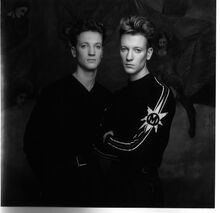 In the Nursery are an English neoclassical dark wave/martial industrial band, known for their cinematic sound. The duo has provided soundtracks to a variety of TV programmes and films, and is known for its rescoring of silent films. Twin brothers Klive and Nigel Humberstone and guitar player Anthony Bennett formed this Sheffield-based band in 1981. Influenced by Joy Division, the trio originally tagged along with the UK's industrial music scene, releasing the six-track When Cherished Dreams Come True in June 1983. The "Witness (To a Scream)" single and Sonority EP followed before the band moved to the Sweatbox label for the fearsome Temper EP. (read more on wikipedia)
Links to Peel
Peel played tracks from the band's debut album in 1983 and continued supporting them until around the late 80's. The band mentioned on a YouTube video called I is for... In The Nursery, that Peel tried to play the group's second single, Witness on his show, after Klive sent a copy to him. Unfortunately for the group, the single had a bad pressing and Peel had to abandon the track half way when playing it on his show. In response, Peel wrote a letter back to Klive explaining that there was a scratch on the record.
Shows Played
1983
1985
1986
1987
External Links
Community content is available under
CC-BY-SA
unless otherwise noted.