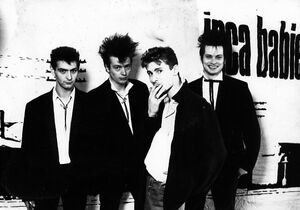 Inca Babies are an English post-punk deathrock band from Manchester, England, initially active between 1982 and 1988 but reformed in 2007 featuring founder member and original songwriter Harry Stafford (guitars, vocals). With a new line-up of Rob Haynes (drums) and Vince Hunt (bass) the Inca Babies have released three new albums and toured extensively in Europe and Russia, most recently performing in St Petersburg and Moscow in September 2014 to launch their latest album, The Stereo Plan, on the band's own Black Lagoon Records.
Links to Peel
The band's music could be described as a raunchy death ray twang from a punk-trash, Americana perspective, which Peel often liked in the 80's. He and his producer John Walters heard the Inca's first single The Interior in 1983 and offered them a session. It was to be the first of four they did for Radio 1 between 1984-87.
In October 2012, the band released a CD titled Re-Peeled to mark their inclusion in a musical tribute night in Manchester to BBC DJ John Peel. This featured re-recordings of four songs originally recorded for sessions for John Peel's BBC Radio One show in the early 1980s.
Sessions
1. Recorded: 1984-01-28. Broadcast: 06 February 1984. Repeated: 21 February 1984
Grunt Cadillac Hotel / Brother Rat / Superior Spectre / Big Jugular
2. Recorded: 1984-08-21. Broadcast: 28 August 1984. Repeated: 12 September 1984
The Judge / She Mercenary / Cactus Mouth Informer / Blind Man (The Chiller)
3. Recorded: 1985-06-16. Broadcast: 26 June 1985. Repeated: 29 July 1985
Crawling Garage Gasoline / Doomed Locustland / Daniella / No Sacred Sound
4. Recorded: 1986-07-08. Broadcast: 21 July 1986. Repeated: 04 August 1986
Plenty More Mutants / Opium Den / The Depths / Dresden
Other Shows Played
1984
1985
1986
1987
External Links
Community content is available under
CC-BY-SA
unless otherwise noted.