Italy (Italian: Italia), officially the Italian Republic (Italian: Repubblica Italiana), is a unitary parliamentary republic in Europe. Italy covers an area of 301,338 km2 (116,347 sq mi) and has a largely temperate seasonal climate or Mediterranean climate; due to its shape, it is often referred to in Italy as lo Stivale (the Boot). With 61 million inhabitants, it is the third most populous EU member state. Located in the heart of the Mediterranean Sea, Italy shares open land borders with France, Switzerland, Austria, Slovenia, San Marino and Vatican City.
Links To Peel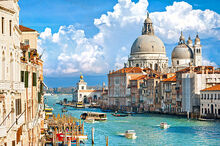 Peel and Sheila with John's brother Alan took on a driving holiday in mainland Europe in the summer of 1969, which involved their first trip to Venice according to Margrave Of The Marshes.
In December 2017 the V&A 'Revolution' exhibition opened at the Fabbrica del vapore ("steam factory") exhibition space in Milan, Northern Italy. The fact that the exhibition featured LP covers from Peel's personal collection was highlighted in the official presentation and in several press articles.[1] [2]
Sessions
The following artists from Italy recorded sessions for the John Peel Show:
Festive Fifty
See Also
External Links
Community content is available under
CC-BY-SA
unless otherwise noted.