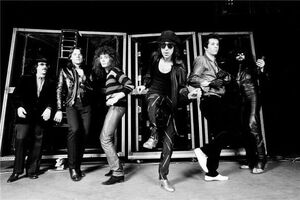 The J. Geils Band was an American rock band formed in 1968 in Worcester, Massachusetts, under the leadership of guitarist John "J." Geils (February 20, 1946 – April 11, 2017). The band played R&B-influenced blues rock during the 1970s, and soon achieved commercial success before moving towards a more new wave mainstream sound in the early 1980s, which would soon bring the band to its commercial peak, with their hit 'Centerfold', which reached number 3 in the UK singles chart and number 1 in the Billboard's American singles chart. Since its initial break-up in 1985, the band has reunited several times.
Links To Peel
The J. Geils Band were well received by critics when their early records appeared, and as their style was close to the blues and in line with the post-hippy, back-to-the roots mood of their era, Peel started playing the group's material in the early 70's. In 1973 they visited the UK and appeared on the Old Grey Whistle Test, but by the end of the decade, with the band moving into a mainstream sound, Peel had lost interest in them. On his 10 January 1979 show after playing the J Geils Band's I Could Hurt You, he quipped:
"Well that was kind of dull, wasn't it? But there you are, can't always get it right!"
In 1980, Peel travelled to the Pinkpop festival in the Netherlands and amongst those who performed there, were the J.Geils Band.
Shows Played
1971
1972
1973
1974
1979
1985
External Links
Community content is available under
CC-BY-SA
unless otherwise noted.