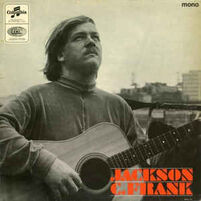 Jackson Carey Frank (March 2, 1943 – March 3, 1999) was an American folk musician. He released his first and only album in 1965, produced by Paul Simon. After the release of the record, Frank was plagued by a series of personal issues, and was diagnosed with schizophrenia and protracted depression that prevented him from maintaining his career.
Frank spent his later life homeless and destitute, and died in 1999 of pneumonia. Though he only released one record, he has been cited as an influence by many singer-songwriters, including Paul Simon, Sandy Denny, Bert Jansch and Nick Drake. Rolling Stone journalist David Fricke called Frank "one of the best forgotten songwriters of the 1960s."
(Read more at Wikipedia].
Links to Peel
While Jackson C. Frank was establishing his reputation on the London folk scene, Peel was pursuing his DJ career in the USA, and by the time JP returned to Britain in early 1967, Frank had gone back to the USA. But Peel played his music on the Perfumed Garden after being sent a copy of the singer's LP (issued in 1965 and, because of its lack of commercial success, soon deleted) by a listener who also sent him another rare LP recorded in London for EMI's Columbia label, by fellow American Shawn Phillips.
In 1968 Jackson C. Frank returned to Britain and attempted to revive his career. He did a session for Night Ride and was featured in an episode of the Radio 2 series My Kind Of Folk (with guests the Young Tradition and Chris Hardy) but was unable to build on his reputation and withdrew into obscurity. As the Wikipedia article on him shows, he influenced many artists, both contemporaries like Bert Jansch and Sandy Denny and later generations. (He was in a relationship with Sandy Denny for a time, and she sang a version of his song "You Never Wanted Me" on Fairport Convention's third Peel session, first broadcast in June 1968). However Peel doesn't appear to have revisited Frank's work in later decades, despite a number of reissues, one of which included his Peel session (see below).
Festive Fifty Entries
Sessions
One session. Available on The Complete Recordings 3xCD, 2015 (Ba Da Bing!, BING 105).
1. Recorded: 1968-10-09. First broadcast: 09 October 1968
Blues Run The Game / Jimmy Clay / Just Like Anything / Carnival/ You Never Wanted Me
Other Shows Played
06 August 1967: Milk and Honey (LP: Jackson C. Frank) Columbia 33SX 1788
14 August 1967: Milk And Honey (LP - Jackson C. Frank) Columbia 33SX 1788
External Links
Community content is available under
CC-BY-SA
unless otherwise noted.