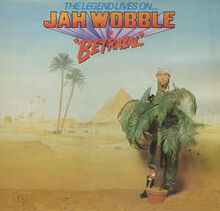 John Joseph Wardle (born 11 August 1958), known by the stage name Jah Wobble, is an English bass guitarist, singer, poet and composer. He became known to a wider audience as the original bass player in Public Image Ltd (PiL) in the late 1970s and early 1980s, but left the band after two albums. Following his departure from PiL, he went on to a successful solo career, continuing to the present. In 2009, he published his autobiography, Memoirs of a Geezer. In 2012, he reunited with fellow PiL guitarist Keith Levene for 'Metal Box In Dub' and the album 'Yin & Yang'. Since 2013 he has been one of the featured pundits on Sunday morning's The Virtual Jukebox segment of BBC Radio 5 Live's Up All Night with Dotun Adebayo.
(Read more at Wikipedia.)
Links to Peel
Jah Wobble's arrival on the British music scene in the late 1970s owed much to his personal links to members of the Sex Pistols, who led the UK punk revolution that remodeled Peel's show. After the Pistols split, Johnny Rotten (Lydon) invited his former college friend to join Public Image Limited, while Sid Vicious lent Wobble his first bass and also accidentally gave him his memorable professional name.
Helped by Lydon's high profile, Public Image quickly emerged as regulars on Peel's show, including Festive Fifty entries and one session, with Wobble's distinctive dub-influenced bass an important component of the band's unique early sound. Peel also played Wobble's initial solo efforts, put out while still a member of PiL, often alongside current band releases.
While Peel continued to follow Wobble's career after his departure from Public Image, the musician's early moves in a world music direction as leader of Invaders Of The Heart meant he was often a more natural fit for DJs such as Andy Kershaw, who gave him a solo session, and Charlie Gillett, whose Oval label released Invaders records in the early 1990s.
Despite this, Wobble's many collaborations across different genres meant he frequently worked with artists featured by Peel, including Natacha Atlas, Brian Eno, Joolz, Bill Laswell, The Orb, Primal Scream, Pulse 8, Secret Knowledge, Shamen and Leslie Winer, as well as musicians from bands the DJ supported such as Daniel Ash (previously Bauhaus), Ginger Baker (Cream), Ian McNabb (Wild Swans, Icicle Works), Suggs (Madness), Holger Czukay and Jaki Liebezeit (both Can). Wobble also recorded with Peel-played groupings from the On-U Sound label of dub producer Adrian Sherwood, including African Head Charge, Barmy Army and Dub Syndicate.[1]
Festive Fifty Entries
Sessions
None under own name.
Played on only session of Public Image.
Also, one session with Joolz (recorded 1984-07-21) and one session with Frank Chickens (1989-06-25).
Other Shows Played
Jah Wobble
Invaders Of The Heart
External Links
Community content is available under
CC-BY-SA
unless otherwise noted.