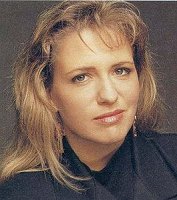 Jackie Brambles (born 1 March 1967), formerly known as Jakki Brambles, is an English journalist, radio DJ and television presenter. Brambles was born in Essex, England and grew up in Ayrshire, Scotland, where she went to secondary school at Ayr Academy in Fort Street, Ayr. She also began her radio career on local radio station West Sound in Ayr when she was 19. She then joined Capital Radio as its youngest DJ, and after a year on the evening show joined the BBC in 1988 as the first female presenter to get her own prime time show on the national pop network BBC Radio One. (Read more on wikipedia ...)
Links To Peel
In 1993, Brambles went on holiday for one week and as replacement, Peel took the slot during Brambles lunch hour programme. Alongside standard daytime playlist fare, Peel promised daily PJ Harvey and Camille Howard tracks, football songs and vintage session numbers. The experiment was never repeated after the shows and Peel did get many abusive faxes from listeners who wanted Jakki Brambles to come back. By the end of the week Peel appeared to got disenchanted with the inability of the daytime audience to open their ears to the sounds that delighted his night time audience. His last link encouraged his new listeners to try out his evening show, although we would never know if many did.
Shows
See Also
External Links
Community content is available under
CC-BY-SA
unless otherwise noted.