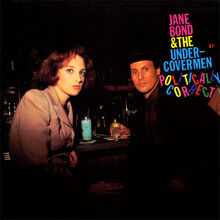 Jane Bond & The Undercover Men were an 80's American alternative group consisting primarily of producer Ethan James (also known as Ralph Burns Kellogg), who used to be a member of Blue Cheer, and Lisa Mitchell, who was the vocalist, as well as other musicians helping including Joe Nolte and John Mauceri, who was formerly the drummer of the Flying Burrito Bros. The ensemble was a project of Ethan James, who released two albums and one single with the group before disbanding.
In 2002 Ethan James released a folk album of his own called Learning Chinese The Hard Way, where the self titled track was written by him and former Jane Bond & The Undercover Men vocalist, Lisa Mitchell, who was now known as Lisa Mitchell Silverman after getting married.
A year later in 2003, Ethan James died of complications from liver cancer in San Francisco at the age of 56.
Links to Peel
Peel seemed to have discovered the group in 1983 when he played tracks from their self titled debut album. He would continue play material from the band through the mid/late 80's, when they re-issued their second album, Politically Correct, through the UK based, Dreamworld label. He described their second album as one of his favourites of 1985 on his 15th January 1986 show. On the album, a special thanks was given to John Peel amongst others.
On his 14th August 1990 show, Peel recalled writing the group fan letters and begging them to record special tracks to broadcast as sessions, but this never happened and became the Sessions That Never Happened.
In the late 90's, Peel re-visited the group by playing tracks mainly from their Politically Correct album in an attempt to do a Jane Bond And The Undercover Men revival.
After JP's death, it was later found out that a copy of their single, Hot Rod Lincoln, was found in his Record Box, which consisted of 142 singles that he would take if there was a fire at his home.
Shows Played
1983
1985
1986
1987
1997
1999
External Links
Community content is available under
CC-BY-SA
unless otherwise noted.