Janice & John In Japan was a series of programmes, broadcast on BBC Radio One between 20th and 23rd October 1986. The programmes were presented by Janice Long and John Peel, who were both in Japan for BBC Radio One presenting music and culture in the country.
Links To Peel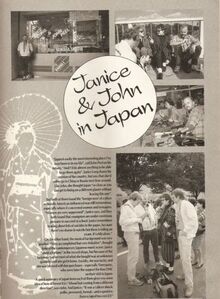 In an article published on the Observer on 26th October 1986, Paul Ferris made a review of the programme:
"Janice and John in Japan was a joint effort by two of the regular presenters, Janice Long and John Peel live by satellite. The problem is, who can you find to speak English? A Tokyo woman DJ with an American accent kept shouting things like 'howdy there in England. Wow. It's exciting.' A resident on the tourist board's approved list showed Long around his house, and there was subdued laughter about the sanitary arrangements for foreigners. Brits in Tokyo came in useful, including band members, there for a music festival, speaking rock musician English. An old Radio 1 hand, Ian Whitely, talked variously about the Japanese Labour Party (led by a pioneering feminist) and soft-porn TV programmes (typical item, interview with a naked woman, inside the vat of saké, where she makes a living, serving it to thirsty men in a bar. 'Ugh' said Long)."[1]
See Also