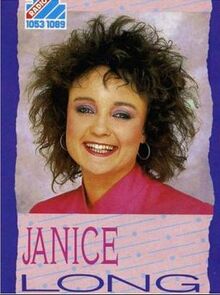 Janice Long (born Janice Chegwin on 5 April 1955) is an English radio broadcaster. During her career she has presented shows on BBC Radio 1, BBC Radio 2 and BBC Wales. On Radio 2 she presented a weekday night time show from 2000 to 2017, which aired at midnight. The After Midnight show was axed in 2017 following a decision by station bosses to end live overnight programming. Long presented the final show on 26 January [1]. She currently hosts her own show on BBC Radio Wales.
She is the elder sister of TV and radio personality Keith Chegwin (17 January 1957 - 11 December 2017). Janice also has presented TV programmes including Top Of The Pops.
Links To Peel
Janice Long was a colleague of John Peel at Radio One from 1982 to 1987. From 1984 onwards she presented the weekday mid-evening show which served as an effective bridge between the daytime output and Peel's show; her acrimonious departure from the station came after she became an unmarried mother, which seemingly offended the management of the day (one of whom had earlier said that her dress sense made her "look like a lesbian"). She later worked for the BBC station GLR in London, before presenting an overnight show for Radio 2 from 2000 (where she was a colleague of Peel again, as he presented occasional documentaries on the station).
The pair presented 'Janice and John's New Year's Eve Party' on Radio 1 on 31 December 1985 which featured highlights from Live Aid plus "some night-time favourites". Long presented a John Peel's Welsh Sessions special for BBC Radio Wales in 2017.
Janice Long Session Tracks Played By Peel
Top Of The Pops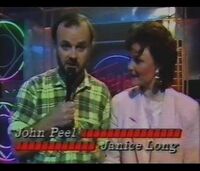 Janice Long appeared as a co-host with Peel for sixteen episodes of Top of the Pops between 1982 and 1987. She and David Jensen were the only radio one DJs to regularly co-host the show with Peel in the 1980s. The duo made six appearances together in 1986 and one in 1987. Long reminisces over their relationship and TOTP shows during the Top of the Pops - The Story Of 1985 documentary (2018).
Links