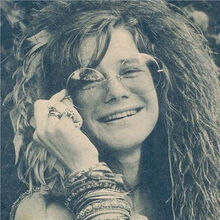 Janis Lyn Joplin (January 19, 1943 – October 4, 1970), nicknamed "Pearl", was an American rock, soul and blues singer and songwriter, and one of the most successful and widely-known female rock stars of her era. After releasing three albums, she died of a heroin overdose at the age of 27. A fourth album, Pearl, was released in January 1971, just over three months after her death. It reached number one on the Billboard charts.
In 1967, Joplin rose to fame during an appearance at Monterey Pop Festival, where she was the lead singer of the then little-known San Francisco psychedelic rock band Big Brother and the Holding Company. After releasing two albums with the band, she left Big Brother to continue as a solo artist with her own backing groups, first the Kozmic Blues Band and then the Full Tilt Boogie Band. She appeared at the Woodstock festival and the Festival Express train tour.
Links to Peel
In the New Blind Date, published in the Melody Maker of 23 September 1968, Peel mentioned his sadness in hearing that Janis was leaving the Big Brother & The Holding Company, stating that she and the band would suffer because of this and that she would become "just another soul singer with brass backings". In the same article, he said he had played their song, Piece Of My Heart, a cover of the Erma Franklin's track, six weeks earlier on his show. He also commented that Janis had "got an Aretha Franklin thing with a Country Joe & The Fish backing" - something obviously to his taste, but despite the rave reviews she got for her live performances, the band were criticised in the US rock press for sounding amateurish and out of tune, which may well have led to her decision to go solo.
Although she was one of the late 1960s rock stars who died young and gained a posthumous cult following (like Jimi Hendrix, the Doors' Jim Morrison and the Rolling Stones' Brian Jones), Peel doesn't seem to have played much from Janis Joplin's solo recordings, but did include a track by her quite late in his career, on a 2002 show.
Shows Played
1971
1972
2002
External Links
Community content is available under
CC-BY-SA
unless otherwise noted.