(This page concerns the band Japan. For the country of the same name, see Japan).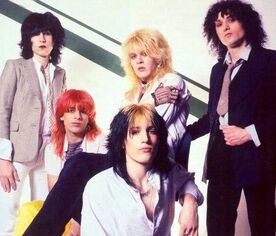 Japan were a British rock group formed in the mid-seventies in Catford, London. Initially inspired by the glam-rock movement, as shown by extravagant use of make up, clothes and hairstyles, the group later moved towards a more mellow sound incorporating electronics and ultimately aspects of oriental music. Founder members Mick Karn, Richard Barbieri and brothers David Sylvian and Steve Jansen (real names David and Stephen Batt), all school friends, were later joined by guitarist Rob Dean and in 1977 signed to German label Ariola. Their first two albums gained some success in Japan and to a lesser extent in Europe although failed to make a mark in their native UK. Third album Quiet Life (1979) showed a more active use of synthesizers and electronic percussion and effects (after working with disco producer Giorgio Moroder) while the 1980 follow-up Gentleman Take Polaroids (their first on Virgin records) saw them gain favour from critics and followers of the upcoming 'New Romantic' movement who identified with the European ennui of their songs, as well as their striking visual appearance. Their final album Tin Drum (1981) borrowed heavily from minimalist oriental music and saw them reach the height of their commercial success with a string of hit singles coupled with the public's belated interest in previous albums. Despite their long-awaited and hard-earned success, the group split at the end of their 1982 tour, which had included a six-night sell-out run at London's Hammersmith Odeon in November. Individual members, most notably David Sylvian, all pursued solo careers afterwards. Bassist Mick Karn died from cancer in 2011.
Links to Peel
Apart from an initial enthusiasm for the band's second album "Obscure Alternatives", from which three tracks were played in a row on 27 November 1978, Peel quickly lost interest in them with successive releases, possibly because they went into a more commercial direction. On the 10 January 1982 (BFBS) show John gave airplay to one of Japan's then latest singles after a listener from Hong Kong requested it, admitting that he was not "too enthusiastic" about them, possibly because he was "old enough" to remember Roxy Music, which, along with other related artists like David Bowie and Eno, had a massive influence on the band. However, given his interest in the group's earlier work, Japan can be considered one of those bands which were first noticed by Peel before any of his colleagues.
Peel sessions
Other shows played
1978
1980
1982
Top of the Pops
1982
External links
Community content is available under
CC-BY-SA
unless otherwise noted.