Jethro Tull are a British progressive rock group. Their music is characterised by the vocals, acoustic guitar, and flute playing of Ian Anderson, who has led the band since its founding, and the guitar work of Martin Barre, who has been with the band since 1969, after he replaced original guitarist Mick Abrahams.
The group first achieved commercial success in 1969, with the folk-tinged blues album Stand Up, which reached No. 1 in the UK charts, and they toured regularly in the UK and the US. Their musical style shifted in the direction of progressive rock with the albums Aqualung, Thick as a Brick and A Passion Play, and shifted again to hard rock mixed with folk rock with Songs from the Wood and Heavy Horses. Jethro Tull have sold over 60 million albums worldwide, with 11 gold and five platinum albums among them. They have been described by Rolling Stone as "one of the most commercially successful and eccentric progressive rock bands..." (Read more at Wikipedia)
Links to Peel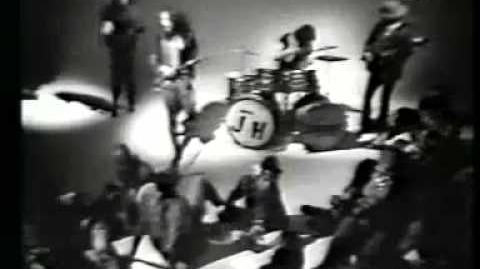 Peel was a supporter of the 1968 incarnation of Jethro Tull and the band did their first session for Top Gear before their first LP was released. He was present when the band played at a free concert in Hyde Park on 20 June 1968, and both Peel and Tull can be seen in a (silent) British Pathé film clip[1] made at the event. In an enthusiastic account of the festival in International Times, Peel wrote: "Jethro Tull had bee preceded to the park by rumours of their goodness. They played with fire and brought out the first rays of the sun....." [2]. In another of his IT columns, a few months later, he praised their debut session: "I wonder did you hear Jethro Tull on Top Gear - they were very good and I look forward to their LP.." [3]
Peel was a fan of Mick Abrahams' guitar playing, which can be heard on the band's debut single "A Song for Jeffrey", whose psychedelic-blues style shows the influence of Captain Beefheart's Safe As Milk LP. In September 1968 Melody Maker played the single to him as part of the New Blind Date feature, and he praised it, saying; "I like them Beefheart-like, notwithstanding your criticism last week. They have a good mixture of Roland Kirk and Captain Beefheart, which all goes back to the blues obviously". But once Abrahams left (replaced by Martin Barre), Peel became more crtitical of Tull's work. This, apparently, caused a sort of altercation between Peel and Ian Anderson (see below) which led to Peel abandoning the band. They never became one of the progressive bands he strongly disliked and repeatedly criticised (like Emerson, Lake & Palmer or Deep Purple), but most of the radio airplay they received on the BBC was on other Sounds of the Seventies shows. Ian Anderson dedicated the 40th anniversary edition (released in 2010) to John Peel, stating that he was regretful that he never had the chance to make up with him.
After he left Jethro Tull, Mick Abrahams' own bands (Blodwyn Pig and Mick Abrahams Band) got plenty of airplay on Peel's shows, and also did sessions for them.
Ian Anderson on John Peel
On his part of the liner notes released on "This Was 40th Anniversary Collector's Edition " (each band member wrote something), Ian Anderson briefly remembers Peel's support in getting the band known and gives a brief memory of the sessions the band recorded for his program:
"The support of Marquee Club manager, John Gee and BBC Radio DJ John Peel were of enormous help in spreading the word and giving us the opportunity to find a wider audience.
[...]
During the months following the recording and release of This Was, our little Blues band featured on a number of BBC Radio sesssions, some on the John Peel show, some for other broadcasters (note: this is an error, all the sessions the band did in 1968 were recorded for "Top Gear") and the results - amazingly enough - were retained by the BBC in whatever cavernous vaults and audio dungeons line the bowels Broadcasting House in Portland Place, then and now the home of the "Beeb".




These sessions were, as far as I remember, completely live recordings and stand the test of time surprisignly well. Sonically, they are pretty damn fine. [...]

Perhaps, to Mick, John and John we should dedicate this re-mastered edition of This Was, complete with the additional tracks recorded during the brief life of this line-up of Jethro Tull."



On the booklet of the 2 CD 40th Anniversary Edition of Jethro Tull's second album "Stand Up", Anderson spoke of the end of his friendship with Peel and ultimately, dedicates the edition of the album to John's memory, as a belated "thank you":
"Venerated DJ of the BBC radio shows Top Gear and Night Ride, Peel championed the new artists of the late sixties. Captain Beefheart graced the airwaves in Europe courtesy of Peel's support and the playing of his early works. T Rex, Jethro Tull and Led Zeppelin were all to find early national attention through Peel's radio shows. 




But John, who had a soft spot for original Tull guitarist, Mick Abrahams, was not to be so supportive of our next effort. He advised me, at a co-appearance in a Devon club in early '69, that he didn't like the new songs of Stand Up and thought it at mistake that we had apparently lost touch with our blues roots and Mick in particular.

Martin and I were a little stung by this and so the mood was not good when we recorded the songs for Peel's live sessions show four moths later. John Peel, himself, didn't turn up, which made us feel somewhat unloved! Peel's producer John Walters reported some of this bad feeling to his master and thus began a long and regrettable period of disassociation from one of the two or three people most supportive and influential in getting Tull's career started.

Sadly John died in 2004 and we never really had the chance to make up. So I dedicate this edition of Stand Up and its related bonus material to John's memory, with fondness and appreciation. He was truly one of our all-time best-loved broadcasters in the UK and, without his generous support in those first few months, Tull might never have made it to the next level."
Sessions
Three sessions. Details on the BBC website are incomplete. The information below has been corrected according to the available evidence. Sessions #1 and #2 are fully available on "This Was (40th Anniversary Collector's Edition)" (Chrysalis, 2008) and on "This Was (The 50th Anniversary Edition)" (Chrysalis, 2018). Session #3 has been released on "Stand Up (2 CD & DVD EDITION) " (Chrysalis, 2010) and on "Stand Up (The Elevated Edition)" (Chrysalis, 2016).
Material from the three sessions had also appeared before: "20 Years Of Jethro Tull - The Definitive Collection" has "Song For Jeffrey" from session #1, "Love Story" and "Stormy Monday Blues" from session #2 and "A New Day Yesterday", "Fat Man" and "Bourée" from session #3. "A Song For Jeffrey", "Fat Man" and "Bourée" also appeared on "Aqualung (25th Anniversary Special Edition)". 
1. Recording date: 1968-07-23. First broadcast: 04 August 1968. Repeated: 22 September 1968.
So Much Trouble / My Sunday Feeling / Serenade to a Cuckoo / Cat's Squirrel (first broadcasted 22 September 1968) / A Song For Jeffrey
2. Recording date: 1968-11-05. First broadcast: 15 December 1968. Repeated: 29 January 1969.
Love Story / Stormy Monday / Beggar's Farm / Dharma For One
3. Recording date: 1969-06-16. First broadcast: 22 June 1969. Repeated: 03 August 1969, 25 September 1975.
Bourée / A New Day Yesterday / Fat Man / Nothing is Easy
Live
Thick As A Brick
No Lullaby
Flute Solo
Pibroch (instrumental)
Songs From The Wood
Quatrain
Aqualung
Locomotive Breath
The Dambusters March
Instrumental[1] (faded out)
Other Shows Played
(The following list was compiled only from the database of this site and is incomplete. Please add more information if known.)
Top Of The Pops
See Also
External Links
Footnotes
↑ This untitled instrumental, previously misidentified as "Conundrum", was finally given the title of "A Single Man" when a studio version was released on "Stormwatch (The 40th Anniversary Force 10 Edition)" .
Community content is available under
CC-BY-SA
unless otherwise noted.