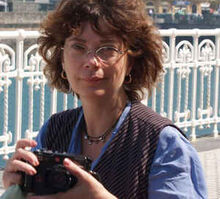 Jill Furmanovsky (born 1953) is a British photographer who has specialised in documenting rock musicians. Born in Southern Rhodesia, Furmanovsky emigrated with her parents and brother Michael to London in 1965. She studied textile and graphic design at Central Saint Martins College of Art and Design from 1972 to 1974. In 1972, she became the official photographer at the Rainbow Theatre, a significant venue for rock performances in the 1970s.
Furmanovsky has photographed many major rock musicians, including Bob Dylan, Led Zeppelin, Pink Floyd, Mike Oldfield, The Ramones, Bob Marley, Eric Clapton, Blondie, The Police, The Clash, The Sex Pistols, The Pretenders and Oasis. Her book, The Moment – 25 Years of Rock Photography was published in 1995, and an exhibition of Oasis photographs, Was There Then, toured the UK and Ireland in 1997. The exhibition was followed by publication of the book Was There Then – A Photographic Journey with Oasis.
Links To Peel
Peel met Furmanovsky at a social event in the early 70's, where she gave him a South African record, which Peel played on his show. That record called 'Tickey Dopies' by Sipho Bhengu was the first African track played by the DJ. After Peel's death in 2004, the record was found in John Peel's Record Box.
External Links
Community content is available under
CC-BY-SA
unless otherwise noted.