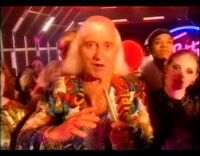 Jimmy Savile (1926-2011) was a British radio broadcaster who was a colleague of
John Peel
at Radio One from
1968
to
1987
.
Relationship with John Peel
Credited by some as having invented the notion of the modern DJ[1], Savile's philosophy on music nonetheless makes him, by his own admission, the complete antithesis of Peel.
Nevertheless, he was, like Peel, produced by John Walters at one point in his radio career.[3] Walters gave an account of how Savile's Travels came into being:
"....the first thing I really got on my own was looking after Jimmy Savile, who had decided he'd do a show on Radio One, going round talking to people. They wanted to call it "the Savile Scene", but I didn't like that, and suddenly, in bed one night, I thought "Savile's Travels", and that was about my best contribution to the programme. I got on with Jim very well, and found him to be a very amiable geezer, very impressive; he's one of those people that it changes you slightly to have met. You can relate things in show business to him - if you're stuck you think "What would Jim do in a situation like this?" and you know exactly what he'd do; he'd say "What do the lads in Wigan want?"...You go for obvious showbiz, gold lamé things, and it was interesting to see that side of the business, and to see him sell himself." (John Tobler, The Walters Interview, Zigzag 24 (1972)).
In fact, the cult of being a DJ was so much a part of Savile's personality that he refused to play second fiddle to anyone, even JP:
"I've seen him pull off some nice little things, and thought "tremendous", like watching Pelé play. At one of the MM awards, when John (Peel) won Top Disc Jockey, he was asked to come back the following year to present the trophy, but he won it again, so they asked Savile, who came second, to present the award. That sort of thing is not Jim, but he went, grabbed the mike, and was photographed holding the mike, tickling the chick who was presenting him with his award, and got a stack of photos taken with his big cigar. Then he had to make a speech before giving John his trophy, which he did, then John came up and as soon as he got near enough, Jim thrust the award into his hand and turned away as quickly as possible, but in a nice way, so that no-one was quick enough to get a photograph of Jim Savile, second DJ, giving an award to John Peel, first DJ. It's those little strokes that make a showbiz personality." (Tobler, Zigzag, ibid.)
In 1973, John Peel impersonated Saville in a cameo appearance on
The Goodies
.
Top Of The Pops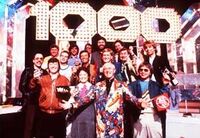 Savile was, for all intent and purpose, 'Mr. Top Of the Pops'. He presented the first and last shows, and hundreds in between. Indeed, he tried - without much success - to guide Peel through his TOTP debut in 1968.[4] Clive Selwood, Peel's long-time friend and manager, recalled in All The Moves (But None Of The Licks) (pg. 101) Savile's kindness to Peel on the day of the latter's debut on the TV show:
"In rehearsals John mentioned that he had first seen one of the scheduled groups when he had been working in California, and Jimmy suggested that John omit that piece of information on the basis that most of the audience had never ventured further than Morecombe. A decent gesture to help a television novice." [5]
Peel himself publicly thanked Savile for his help, on Top Gear the following Saturday, 04 February 1968:
"I'd like to thank Jimmy Savile, because I was on Top Of The Pops earlier in the week. I've never been so terrified in all my life actually as I was, but he was very kind and helped me and sort of guided me through it, so thank you very much, Jimmy, for that."
Jimmy Savile later appeared as a co-host with Peel in occasional, multi-DJ episodes of
Top of the Pops
during the 1980s.
[6]
[7]
Later Years
Savile died in Leeds at the age of 84 on October 29, 2011. The following year, he was the subject of a posthumous police investigation into historic child abuse, including acts allegedly committed at the BBC, and in the process, the Daily Mail unsuccessfully attempted to bracket Peel with his former colleague. [8]
Links
References
Community content is available under
CC-BY-SA
unless otherwise noted.