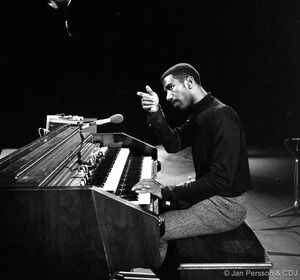 James Oscar Smith (December 8, 1925 or 1928 – February 8, 2005) was an American jazz musician whose albums often charted on Billboard magazine. He helped popularise the Hammond B-3 organ, creating a link between jazz and 1960s soul music.
During the 1950s and 1960s, Smith almost always performed live, in a trio consisting of organ, guitar & drums. The Jimmy Smith Trio performed "When Johnny Comes Marching Home" and "The Sermon" in the 1964 film Get Yourself A College Girl. In the 1970s, Smith opened his own supper club in the North Hollywood neighborhood of Los Angeles, California, at 12910 Victory Boulevard and played there regularly with Kenny Dixon on drums, Herman Riley and John F. Phillips on saxophone; also included in the band was harmonica/flute player Stanley Behrens. The 1972 album Root Down, considered a seminal influence on later generations of funk and hip-hop musicians, was recorded live at the club, albeit with a different group of backing musicians.
Smith's career became renascent in the 1980s and 90s as he made recordings with artists as diverse as Frank Sinatra and Michael Jackson.
In 2005, Smith was awarded the NEA Jazz Masters Award from the National Endowment for the Arts, the highest honour that America bestows upon jazz musicians. The title of his album Back At The Chicken Shack (1963) was the source for that band's name.
Links to Peel
John's first exposure to Jimmy Smith's music came from his time on the original Kat's Karavan (1961), which apparently played it often. Smith's music was popular in London clubs in the mid-1960s and was played on Radio London and other pirate radio stations, including Radio Caroline, where the organist and his trio did a live session from the deck of the ship Mi Amigo in 1965[1].
However, Peel didn't feature Smith's music on the Perfumed Garden, as by then, with the advent of psychedelia, jazz/R&B organ trios like his were becoming less fashionable. Yet Smith influenced British keyboard players who were popular during the Top Gear era, including Brian Auger, Keith Emerson of the Nice and Jon Lord of Deep Purple, as well as artists associated with the acid jazz movement of the 1980s and '90s, like the James Taylor Quartet. In later years, JP revisited Jimmy Smith's records fitfully, showing most enthusiasm for The Sermon as it appeared on the re-released soundtrack for Get Yourself A College Girl.
Festive Fifty Entries
Sessions
None. Peel stated (23 May 2002) that his show once tried to get Smith in for a session, but his financial demands would have taken up the programme budget for six months. (See also Sessions That Never Happened).
Other Shows Played
External Links
Community content is available under
CC-BY-SA
unless otherwise noted.