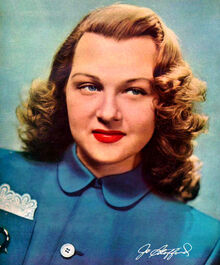 Jo Elizabeth Stafford (November 12, 1917 – July 16, 2008) was an American traditional pop music singer and occasional actress, whose career spanned five decades from the late 1930s to the early 1980s. Admired for the purity of her voice, she originally underwent classical training to become an opera singer before following a career in popular music, and by 1955 had achieved more worldwide record sales than any other female artist. Her 1952 song "You Belong to Me" topped the charts in the United States and United Kingdom, the record becoming the first by a female artist to reach number one on the U.K. Singles Chart.
Jonathan and Darlene Edwards
Stafford married twice: in 1937 to musician John Huddleston from whom she divorced in 1943 and then to Paul Weston in 1952. Together with her second husband, she formed a parody act where they assumed the identities of an incompetent lounge act, Jonathan and Darlene Edward. They initially performed only for their friends at parties, but an album released as the Edwardses in 1957 proved so popular more material was forthcoming, including the 1961 Jonathan and Darlene Edwards in Paris release which earned Stafford her only Grammy Award, for Best Comedy Album..
Links To Peel
Peel nominated her duet with Gordon McRae called "A You're Adorable" as his Peelenium 1949 in 1999 and added her track Around The Corner as a Pig's Big 78 in 2000. He also showed a cursory interest in her alter ego as Darlene Edwards, but only a handful of plays have so far surfaced of this deliberately gauche facet of her character.
Shows Played
2000
Jonathan And Darlene Edwards
External Links
Community content is available under
CC-BY-SA
unless otherwise noted.