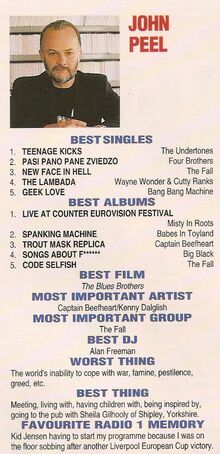 The Jocks Choice were short interview snippets with BBC Radio One DJ's in the book, '25 Years Of Pop', that was published by the BBC in 1992 to commemorate the silver jubilee of the radio station. The Jocks Choice involved BBC Radio One DJ's answering questions about what their favourites in entertainment and life. Peel was asked several questions that were published in the book and these were his answers:
Peel's Answers
Best Singles
Best Albums
Best Film
Most Important Artist
Most Important Group
Best DJ
Worst Thing
The world's inability to cope with war, famine, pestilence, greed, etc
Best Thing
Meeting, living with, having children with, being inspired by, going to the pub with Sheila Gilhooly of Shipley, Yorkshire.
Favourite Radio 1 Memory
Kid Jensen having start to my programme because I was on the floor sobbing after another Liverpool European Cup victory. [1]
External Links
Footnotes
↑ This was broadcast on 30 May 1984
Community content is available under
CC-BY-SA
unless otherwise noted.