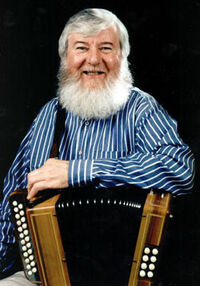 Joe Burke (11 April 1939 – 20 February 2021) was one of the foremost Irish button accordion players of all time.
Born in 1939 in Kilnadeema, south of Loughrea in east County Galway, Burke began playing at age four, and in the 1950s bought an accordion (which he had until his death) in Walton's of Dublin for £5. He won the All-Ireland Senior Accordion Championship in Thurles in 1959 and again in 1960 in Boyle. Together with fiddler Aggie Whyte, he won the duet championship in 1962 in Gorey, Wexford.
In 1956 Burke was a founding member of the Leitrim Ceili Band (named for the east Galway parish, not the county). Other members of the band, which won All-Ireland Championships in 1959 and 1962, included flute players Paddy Carty, Ambrose Moloney and Tony Molloy; button accordionists Mick Darcy and Sean McGlynn; fiddlers Michael Joe Dooley, Paddy Doorhy, Aggie Whyte and Séamus Connolly; drummer Sean Curley and pianist Anne-Marie Courtney. The band toured in England and released an LP on the New York-based Dublin label.
(Read more on Wikipedia)
Links to Peel
It is not known whether Peel played tracks from Joe Burke during the late 60's and early 70's, when the accordionist was in his prime - probably not, as in those days JP tended to feature newer Irish folk artists like the Chieftains and Planxty, rather than those, like Joe Burke, who represented older traditions. However, Peel did play tracks from the artist in 1987 when Joe collaborated with Michael Cooney & Terry Corcoran to form the album, Happy To Meet & Sorry To Part.
He is not to be confused with the American songwriter Joe Burke[1], who wrote a number of pop standards, including "Tiptoe Thru' The Tulips", which Peel played in 1968 in the version by Tiny Tim.
Shows Played
1987
15 April 1987: Jigs: Daleystown Hunt / The Carraroe Jig (LP - Happy To Meet & Sorry To Part) Green Linnet
27 April 1987: Long Dance: Bonaparte's Retreat (LP - Happy To Meet & Sorry To Part) Green Linnet
06 May 1987: Reels: The Bells Of Tipperary / Miss Galvin's (LP - Happy To Meet & Sorry To Part) Green Linnet
External Links
Community content is available under
CC-BY-SA
unless otherwise noted.