"There have been some great broadcasters in my life – Wynford Vaughan-Thomas; Wolfman Jack; Humphrey Lyttelton; Alan Freeman; Russ Knight, the Weird Beard; Peter Clayton – but John Arlott was the greatest of them all." (John Peel, 14 December 1991)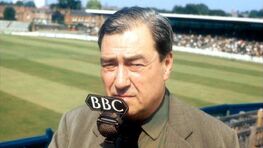 Leslie Thomas John Arlott OBE (25 February 1914 – 14 December 1991) was an English journalist, author, football and cricket commentator for the BBC's Test Match Special. He was also a poet and wine connoisseur. With his poetic phraseology, he became an iconic cricket commentator noted for his "wonderful gift for evoking cricketing moments" by the BBC. (Read more at Wikipedia)
Links To Peel
One of Peel's favourite broadcasters was John Arlott, who covered Test Matches on BBC radio from 1946 until his retirement in 1980. Peel remarked on Radio Radio (Transcript):
"I used to listen to cricket commentaries when John Arlott was doing them. I wasn't interested in cricket but it was just such a joy to hear him improvising, you know."
Peel may well have admired Arlott not just for his poetic turns of phrase, but for his liberal and humanitarian views, not always found among the conservative cricket establishment of his time. Unlike many of them, Arlott was a vocal opponent of South Africa's apartheid regime and in 1970 told the BBC he would not work as a commentator if an all-white South African cricket team played a Test series in England (in the end, that tour was cancelled). The DJ also remembered meeting Arlott at a BBC event and being held spellbound as the commentator delivered a monologue (ref).
Shows Played
1992
External Links
Community content is available under
CC-BY-SA
unless otherwise noted.