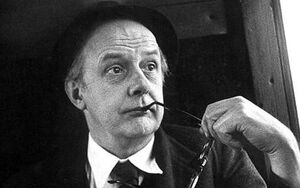 Sir John Betjeman, CBE (28 August 1906 – 19 May 1984) was an English poet, writer, and broadcaster who described himself in Who's Who as a "poet and hack". He was Poet Laureate of the United Kingdom from 1972 until his death. He was a founding member of the Victorian Society and a passionate defender of Victorian architecture. He began his career as a journalist and ended it as one of the most popular British Poets Laureate and a much-loved figure on British television. His discography includes spoken word albums of him reading from his work, and others with various kinds of musical accompaniment.
Links To Peel
According to the BBC Radio 4 documentary Betjeman's Banana Blush, Peel played tracks from Sir John Betjeman's Banana Blush poetry album in the 1970's on his night time programmes. The album was issued on the "progressive" Charisma record label, home of many artists Peel featured in the 1970s, such as Lindisfarne, Van Der Graaf Generator, and Monty Python, and during the decade Betjeman made three more albums for the label, although none seem to feature in existing Peel playlists.
Peel may have enjoyed Betjeman's work, but he wasn't the only Betjeman fan on Radio 1; Mike Read was an ardent admirer of the poet - much more so than Peel - and in the 1990s Read and Betjeman collaborated on a number of recordings of poems and songs. And, as a "national treasure", Betjeman appeared on a variety of BBC TV and radio programmes, making him Britain's best-known and most popular poet.
Betjeman's Banana Blush may have influenced songwriters such as Morrissey, who referenced Betjeman's 1937 poem Slough on Everyday Is Like Sunday, which reached number 12 in the 1988 Festive Fifty. Madness singer Suggs on the Betjeman's Banana Blush documentary also claimed to be influenced by the author when his producer played tracks from Betjeman's album to him, after hearing it on Peel's show.
Shows Played
1974
30 April 1974: Indoor Games Near Newbury (LP - Betjeman's Banana Blush) Charisma [1]
External Links
References
↑

Cavanagh, David (2015), Good Night And Good Riddance (page 155). Faber & Faber.
Community content is available under
CC-BY-SA
unless otherwise noted.