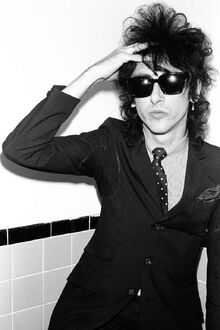 "'The first and the best, and where is he now that we need him?" [1]
"Always plainly miles ahead of anybody who might have considered themselves competition, I think....I wish he was still doing stuff like that, I mean, he still works but mainly doing that again, really, rather than new things." [2]
John Cooper Clarke (born 25 January 1949) is an English performance poet who first became famous during the punk rock era of the late 1970s when he became known as a "punk poet". He released several albums in the late 1970s and early 1980s, and continues to perform regularly. His recorded output has mainly centred on musical backing from the Invisible Girls, which featured Martin Hannett, Steve Hopkins, Pete Shelley, Bill Nelson, and Paul Burgess. In 1979 he had his only UK top 40 hit with "Gimmix! (Play Loud)". Clarke toured with Linton Kwesi Johnson, and has performed on the same bill as bands such as the Sex Pistols, the Fall, Joy Division, the Buzzcocks, Siouxsie and the Banshees, Elvis Costello, Rockpile and New Order (including at their May 1984 Music for Miners benefit concert at London's Royal Festival Hall). His set is characterised by lively, rapid-fire renditions of his poems, usually performed a cappella. Often referred to as "the bard of Salford", he usually refers to himself on stage as "Johnny Clarke, the name behind the hairstyle"....(Read more)
Links to Peel
It is not inconceivable that John Cooper Clarke's laconic Mancunian drawl was what attracted Peel to his work, and which is something that would fuel his fascination with Mark E. Smith (a friend of Clarke's) and the Fall at around the same time. Clarke recorded two sessions for Peel (four years apart) and one track was selected by JP for inclusion in his Festive 61. He referred to Clarke in an end of the year round-up as "a witty and perceptive poet." [1] At least one writer has identified that Clarke, in his seniority, has something in common with JP:
"That night, he performs to 300 people at a club in Islington. The majority of the audience are decades his junior. Like John Peel towards the end of his life, Cooper Clarke has reached a point where he can connect with a new generation on the basis of a shared lack of responsibility, like grandparents do with their grandchildren." [3]
Clarke lamented the demise of Factory boss Tony Wilson, commenting, "I miss him being around for sure; we're poorer for not having him in the world. Who's around like him, these days? Especially now John Peel's gone." [4]
Festive Fifty Entries
Sessions
1. Recorded: 1978-10-31. First broadcast: 06 November 1978. Repeated: 29 November 1978
I Married A Monster From Outer Space [2] / Readers' Wives / Health Fanatic / Spilt Beans
2. Recorded: 1982-02-24. First broadcast: 15 March 1982. Repeated: 01 April 1982
Midnight Shift / The Day My Pad Went Mad [3] / Night People / The New Assassin
Other Shows Played
19 October 1977: 'Suspended Sentence (7"-Innocents E.P.)' (Rabid)
20 October 1977: 'Innocents (7"-Innocents E.P.)' (Rabid)
27 December 1977: 'Suspended Sentence (7"-Innocents E.P.)' (Rabid) 1977 Festive Fifty #05

John Cooper Clarke - Suspended Sentence

17 August 1978: 'Post-War Glamour Girl (7")' (CBS)
25 August 1978: 'Post-War Glamour Girl (7")' (CBS)
18 September 1978: 'Post-War Glamour Girl (7")' (CBS)
21 September 1978: unknown tracks from Disguise In Love [4]
25 September 1978: 'Valley Of Lost Women (album – Disguise In Love) CBS CBS 83132
26 September 1978: 'Strange Bedfellows (album – Disguise In Love) CBS CBS 83132
28 September 1978: 'Readers' Wives (album – Disguise In Love) CBS CBS 83132Peel says he's received letters from listeners who agree with him that the instrumental bits of the JCC album "very irritating indeed"
13 October 1978: 'I Don't Want To Be Nice (album – Disguise In Love) CBS CBS 83132 (JP: 'And if you were watching the programme, the Omnibus television programme last night, you would have seen the famous Radio One playlist committee meeting in session. And in the course of this meeting, John Cooper Clarke was described as a "weirdy". You may have noticed that. Well, here's that well-known weirdy … And hey, wasn't Dickie Lee Torpid (Dave Lee Travis) just huggable?')
03 October 1978: 'Health Fanatic (album – Disguise In Love) CBS CBS 83132
01 November 1978: 'Valley Of Lost Women (album – Disguise In Love) CBS CBS 83132
07 November 1978: 'Readers' Wives (album – Disguise In Love) CBS CBS 83132
11 December 1978: 'Suspended Sentence (7"-Innocents E.P.)' (Rabid)
22 February 1979: '¡Gimmix! Play Loud (7")' (Epic)
06 March 1979: unknown
07 May 1979: 'Readers' Wives (album – Disguise In Love) CBS CBS 83132
16 May 1979: 'Valley Of Lost Women (album – Disguise In Love) CBS CBS 83132
13 June 1979: 'Gaberdine Angus (LP-Walking Back To Happiness)' (Epic)
26 June 1979: 'Majorca (LP-Ou Est La Maison De Fromage?)' (Rabid)
02 August 1979: 'Suspended Sentence (7"-Innocents E.P.)' (Rabid)
30 October 1979: 'Sleepwalk (7"-Splat/Twat)' (Epic)
08 April 1980: 'Sleepwalk (album - Snap, Crackle & Bop) Epic EPC 84083
09 April 1980: 'Belladonna (album - Snap, Crackle & Bop) Epic EPC 84083
14 April 1980: 'A Distant Relation (album - Snap, Crackle & Bop) Epic EPC 84083
15 April 1980: 'Sleepwalk (album - Snap, Crackle & Bop) Epic EPC 84083
19 April 1980 (BFBS): Sleepwalk (album - Snap, Crackle & Bop) Epic EPC 84083
21 April 1980: 'A Distant Relation (album - Snap, Crackle & Bop) Epic EPC 84083
01 May 1980: '23rd (album - Snap, Crackle & Bop) Epic EPC 84083
03 May 1980 (BFBS): 23rd (album - Snap, Crackle & Bop) Epic EPC 84083
10 May 1980 (BFBS): The It Man (album - Snap, Crackle & Bop) Epic EPC 84083
10 May 1980 (BFBS): Thirty Six Hours (album - Snap, Crackle & Bop) Epic EPC 84083
12 May 1980: It Man (7") Epic
14 May 1980: '36 Hours (7"–It Man)' (Epic)
17 May 1980 (BFBS): Thirty Six Hours (LP - Snap, Crackle & Bop) Epic
20 May 1980: 'Thirty Six Hours (7"–It Man)' (Epic)
24 May 1980 (BFBS): It Man (7") Epic S EPC 8655
26 May 1980: 'Ten Years In An Open Neck Shirt (part 1) (LP–Où Est La Maison De Fromage?)' (Rabid)
28 May 1980: 'Thirty Six Hours (7"–It Man)' (CBS)
03 June 1980: 'The It Man (LP-Snap, Crackle & Bop)' (Epic)
07 June 1980 (BFBS): It Man (7") Epic S EPC 8655
14 June 1980 (BFBS): Thirty Six Hours
03 January 1981 (BFBS): Readers Wives (album – Disguise In Love) CBS CBS 83132
08 January 1981: 'Valley Of Lost Women (LP-Disguise In Love)' (CBS)
04 March 1981: 'The Day My Pad Went Mad (cassette–NME / Rough Trade C81)' (NME / Rough Tapes) as Massed Carnaby St. John Cooper Clarkes
19 April 1980 (BFBS): Sleepwalk (album - Snap, Crackle & Bop) Epic EPC 84083
19 July 1981 (BFBS): Sleepwalk (album - Snap, Crackle & Bop) Epic EPC 84083
Karl's Tape - April 1982 a: 'The Day My Pad Went Mad (7")' (Epic)
03 May 1982: 'A Distant Relation (album - Snap, Crackle & Bop) Epic EPC 84083
18 May 1982: 'I Travel In Biscuits (LP-Zip Style Method)' (Epic)
24 May 1982: 'The Day The World Stood Still (LP-Zip Style Method)' (Epic)
26 May 1982 (BFBS): The Day The World Stood Still (album - Zip Style Method) Epic
26 May 1982 (BFBS): 'I Travel In Biscuits (LP-Zip Style Method)' (Epic)
Karl's Tape 05 - May 1982: 'The Day The World Stood Still (LP-Zip Style Method)' (Epic)
01 June 1982: 'The New Assassin (LP-Zip Style Method)' (Epic)
06 June 1982 (BFBS): 'The Face Behind The Scream (LP-Zip Style Method)' (Epic)
17 June 1982 (BBC World Service): The Day The World Stood Still (album - Zip Style Method) Epic
07 July 1982 (BFBS): 'Night People (7")' (Epic)
08 July 1982: 'The Face Behind The Scream (LP-Zip Style Method)' (Epic)
Karl's Tape Early July 1982: 'The Face Behind The Scream (LP-Zip Style Method)' (Epic)
29 July 1982 (BBC World Service): Night People (7") Epic
22 December 1982: 'Night People (7")' (Epic)
27 July 1983 (BFBS): Innocents (7" - Innocents E.P.) Rabid TOSH 103
Peel 023 (BFBS): 'Suspended Sentence (7"-Innocents EP)' (Rabid)
Rebel Yell: Beasley Street
Peeling Back The Years 5 (Transcript): John mentions, during his discussion of Joy Division, that Clarke was on a 10" Virgin sampler with JD and the Fall
04 April 1989: Thirty Six Hours (LP - Snap, Crackle & Bop) Epic
14 April 1989 (BFBS) (Peel 102 (BFBS)): 'Thirty Six Hours (LP-Snap, Crackle & Bop)' (Epic)
07 September 1991: 'Suspended Sentence (Compilation LP-Martin)' (Factory)
23 May 1992: 'Gimmix Play Loud (10"-Walking Back To Happiness)' (Epic) (JP: 'It's comforting to know that he's still working away out there but I wish he was still making records.')
30 May 1992 (BFBS): Gimmix Play Loud (10" - Walking Back To Happiness) Epic S JCC 1
30 September 1994: 'Thirty Six Hours (LP-Snap Crackle & Bop)' (Epic)
15 October 1994: Conditional Discharge (CD - Snap Crackle & Bop) Epic/Rewind
15 October 1994 (BFBS): '23rd (LP-Snap, Crackle & Bop)' (Epic)
08 August 2002: 'I Don't Want To Be Nice (LP-The Very Best Of...)' (Epic)
External Links
Footnotes