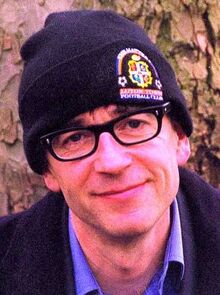 John Richard Hegley (born 1 October 1953) is an English performance poet, comedian, musician and songwriter. He was born in the Newington Green area of Islington, London, England, into a Roman Catholic household. He was brought up in Luton and later Bristol, where he attended Rodway School. After school he worked as a bus conductor and civil servant before attending the University of Bradford, where he gained a BSc in European Literature and the History of Ideas and Sociology. Hegley has French ancestry (his father's name was René) and claims he is descended from the composer Jean-Philippe Rameau. His paternal grandmother was a dancer with the Folies Bergère.
Hegley began his performing career at London's Comedy Store in 1980, and toured as one half of The Brown Paper Bag Brothers with Otiz Cannelloni. He received national exposure when he appeared with his backing band the Popticians on Carrott's Lib in 1983. Hegley published his first poetry collection, Visions of the Bone Idol (Poems about Dogs and Glasses), pieces from which were later incorporated into Glad to Wear Glasses, in 1984. Hegley has written a number of collections of poetry, ranging from the surreal through the humorous to the personal and emotional. There are a number of recurring themes in his poems, notably glasses, dogs and reminiscences of his childhood in Luton.
Links to Peel
John Hegley with his backing group called the Popticians performed twice for Peel's shows between 1983 and 1984. In an interview with the No Class fanzine in 1983, Hedgley described how he was discovered by Peel:
"John Peel came to a club we were playing at last year (1983) and quite liked what we did. Then we got a phone call from John Walters, asking us if we wanted to do a session." [1]
When asked about what instruments the Popticians used in the session, Hegley replied:
"We used an old acoustic guitar, Russ used his whole drum kit: he only uses the snare when we play live. Keith played clarinet: he now plays trumpet as well, and Sue used alto and baritone sax. She uses the alto mainly when the band play live." [2]
In an interview with the Guardian newspaper in 2013, Hegley described the two sessions he recorded for John Peel's Radio One show with his band, the Popticians, as the apex of his career:
"He told us how we'd made him laugh out loud. There's no further you can go than playing on the street one minute, to John Peel saying you are excellent the next." [3]
Sessions
Three sessions in total, two with Popticians, one under own name (live at BBC House Manchester, with Peel sitting in for Mark Radcliffe).
Popticians
1. Recorded: 1983-07-20. Broadcast: 27 July 1983. Repeated: 15 August 1983, 13 September 1983, 28 December 1983
Hello Everybody / Brown Paper Bag / Mobile Home / Song About Losing Your Glasses
2. Recorded: 1984-11-04. Broadcast: 12 November 1984. Repeated: 27 November 1984, 29 January 1985
Scoutmaster / Song About The Misery Of Human Existence / Private / Song About John's Brother's Glasses / Red Ken / Somehow You Look Different Tonight
John Hegley
1. Recorded: live on-air, Broadcasting House Manchester, 1996-02-04. Broadcast: 02 April 1996.
Amen / A Crisis Across The Street / Sandal Man / In The Name Of The Lord / My Brother In Law / Sister / Omo / Rover / The Old Scoutmaster
Other Shows Played
Popticians
1996
John Hegley
No known plays under own name.
See Also
External Links
Community content is available under
CC-BY-SA
unless otherwise noted.