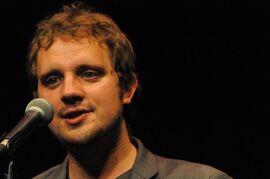 John Osborne (born 15 December 1981) writes books, poems and stories for Radio 4. He is based in Norwich, United Kingdom and studied German and Business at the University of East Anglia. He is the author of three non-fiction books. His first, Radio Head: Up and Down the Dial of British Radio, was published by Simon & Schuster in May 2009 and was selected as Book of the Week on BBC Radio 4. It was serialised in the Daily Mail and reviewed in The Daily Telegraph, and Scotland on Sunday. His second book, The Newsagent's Window: Adventures in a World of Second-Hand Cars and Lost Cats, was published in April 2010 and was awarded best memoir at the East Anglian Book of the Year awards. His third book, Don't Need the Sunshine, was published by AA Publishing in May 2013 and is being adapted for BBC Radio 4.
Links To Peel
In 2002 Osborne won a box of records in a competition on John Peel's Radio One show. In 2010 he presented a show on the Norwich community station Future Radio where he played some of his favourite tracks from the collection. This was then turned into John Peel's Shed - a stage show for the 2011 Edinburgh fringe festival, where it enjoyed a complete sell out and five star reviews. In 2012 the show completed a sixty date UK tour, including a run at the Soho Theatre and performances at festivals including Latitude, Glastonbury and Green Man.
Mentioned In Shows
2002
17 January 2002: The ten winners are announced for the competition to describe the John Peel's programme in 20 words or less, for use in a possible Sony Award nomination. Those receiving 200 or so records from Peel include John Osborne, who in 2010 would use his prize as the basis for a Future Radio series called John Peel's Shed. Mick Ashman in Sheffield ("he wins everything; it's rather shocking, I think") is named first runner-up.
External Links
Community content is available under
CC-BY-SA
unless otherwise noted.