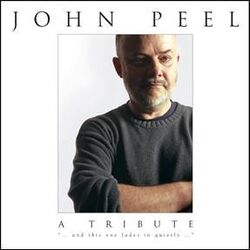 Artist
Label
Release date
Format
Comments
Compiled by Chris Lycett and Nick Stewart.
Chris Lycett was well-qualified to compile a collection of favourite Peel tracks. He worked for Radio 1 from 1968 to 2000 and did engineering and production duties on many sessions recorded for Peel's shows, as well as co-producing Walters' Weekly with Peel's producer John Walters. When Walters died in 2001, Lycett wrote an obituary[1] for the Guardian.
Music business executive Nick Stewart[2] describes in his tribute how he discovered the Peel show in his youth (according to the possibly inaccurate information he gives, at some point in the late 1960s) and credits Sheila Ravenscroft "and the four children", as well as Chris Lycett, for helping him put together the compilation.
CD booklet includes tributes to Peel by Andy Kershaw, Mark Ellen (an edited version of his tribute which originally appeared in Word magazine) and Nick Stewart.
Some reviewers were critical of the "greatest hits" nature of the compilation and of the fact that many of the styles of music Peel played weren't represented in the tracks chosen. The second CD was said to be focused too much on "indie rock"[3],[4].
Only surprising choice on the first CD is the Doors' "Five To One", a Peel favourite at the time of its release in 1968 on the album Waiting For The Sun. It was thought of at the time as a revolutionary anthem, but in the twenty-first century isn't one of their best-remembered tracks.
Back cover note: "Warner Music will be making a donation from sales of this album to John's favourite charities". These are listed in the booklet as "the Salvation Army, Karianduisi School Trust (for which John was a patron) and East Anglia's Children's Hospices."
Tracklisting
CD1
CD2
See Also
Links