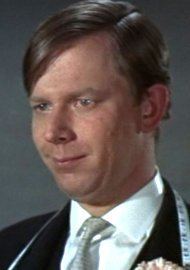 John Campbell Wells (17 November 1936 – 11 January 1998) was an English actor, writer and satirist. The son of a clergyman, Wells was born in Ashford, Kent in 1936. He was educated at Eastbourne College and St Edmund Hall, Oxford. Wells started in cabaret at Oxford and began his television career as a writer on That Was The Week That Was, the 1960s weekly satire show that launched the careers of David Frost and Millicent Martin, among others, and also appeared in the television programme Not So Much a Programme, More a Way of Life, as well as in The Secret Policeman's Other Ball. Besides making cameo appearances in films such as Casino Royale (1967) and Rentadick (1972), television dramas like Casanova (1987), an episode of Lovejoy (1991) and comedy shows like Yes Minister, he also wrote television scripts and screenplays, such as Princess Caraboo (1994).
Links To Peel
Wells was one of the group of satirists who made their names in British TV in the 1960s. He was one of the original contributors to the satirical magazine Private Eye, which Peel read regularly, and contributed to Mrs Wilson's Diary, the long-running spoof journal of the wife of Prime Minister Harold Wilson. 
Peel had guest, John Wells, on the Night Ride programme of 6th November 1968 who criticised the then Prime Minister Harold Wilson, accusing him of indifference to the suffering caused by the civil war in Nigeria; pictures of starving children in the rebel province of Biafra were at the time unavoidable, both in newspapers and on TV. Wilson, notoriously sensitive to media criticism (especially from the staff of Private Eye, whom he regarded as a bunch of snobbish ex-public schoolboys), demanded an apology from the BBC, which Peel was obliged, much to his displeasure, to read out on the following programme. However, in the end, Peel and Wells were vindicated, and the government's attempt to cover up British involvement in the civil war failed[1]. 
External Links
Community content is available under
CC-BY-SA
unless otherwise noted.