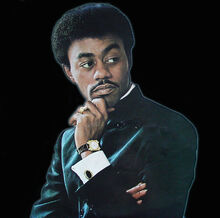 Johnnie Harrison Taylor (not to be confused with Little Johnny Taylor) was an American gospel /R&B / soul singer, born 5 May 1937 in Crawfordsville, Arkansas, died 31 May 2000 in Dallas, Texas. He started his career in the mid-1950s as a member of gospel group The Highway QC's but left that group in 1957 to replace Sam Cooke as lead vocalist for The Soul Stirrers. Taylor has been active as a solo artist since the early 1960s, first at Sam Cooke's SAR Records, later at the Stax label where he had a string of hits. His best known song from that period is probably "Who's Making Love" (1968). Following the bankruptcy of Stax in 1976 he signed at Columbia where he recorded his biggest hit "Disco Lady" (1976), the first single to be rewarded with a platinum record in the US (for selling 2 million copies). After a brief period at Beverly Glen Music in the early 1980s he signed at Malaco Records in 1984 where he would record until his death.
Links to Peel
Peel didn't seem to play much soul music from Johnnie Taylor at the beginning of his British radio career, but by the time the 70's arrived, he was more open to the genre, where he often play soul records that were signed to the Stax label. According to available playlists, Johnnie Taylor's music seemed to first appear on Peel's show in 1973 and a year later, his track, I've Been Born Again, was voted by Peel as his 4th favourite single of 1974 Top Fifty One Singles. It was also played on Peel's 40th birthday show on 29 August 1979, where he choose records that he would like to hear in a party.
Between the 80's and 90's, Peel didn't play much material from Johnnie Taylor, but did revisit him between 2000 and 2001, where he played archive material from the singer.
After Peel's death in 2004, it was later found that he kept his I've Been Born Again single in his wooden box which contained 142 singles from various artists. The wooden box later became part of the TV documentary programme, John Peel's Record Box, which was broadcast on Channel 4 in 2005.
Shows Played
1973
1975
1978
1979
1980
1988
1993
2000
2001
See Also
External Links