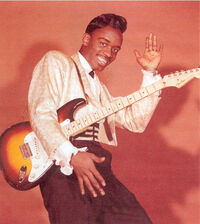 John Watson Jr. (February 3, 1935 – May 17, 1996), known professionally as "Johnny Guitar" Watson, was an American blues, soul, and funk musician and singer-songwriter. A flamboyant showman and electric guitarist in the style of T-Bone Walker, Watson recorded throughout the 1950s and 1960s with some success. His creative reinvention in the 1970s with funk overtones, saw Watson have hits with "Ain't That a Bitch" and "Superman Lover". His successful recording career spanned forty years, with his highest chart appearance being the 1977 song "A Real Mother for Ya".
In later years his work was a source for sampling by hip hop artists such as Dr Dre and Snoop Dogg. He also worked on a number of recordings and projects with Frank Zappa, who cites Watson: "Watson's 1956 song, 'Three Hours Past Midnight' inspired me to become a guitarist."
Watson learned the rudiments of music on the piano as a child. He took up the guitar on the agreement with his preacher grandfather that he would not use it to 'play the blues'. His family moved to Los Angeles in the '50s and, as a teenager, he cut his teeth playing guitar, piano and singing in local LA 'jump bands'. Watson collapsed and died onstage of cardiac infarction whilst performing in Japan.
Links to Peel
Johnny Guitar Watson's discography started from the 50's, but it doesn't seem Peel played material from the musician during the 60's. Either it's because he discovered the singer in the 70's or the lack of complete playlists from Peel's radio shows from the 60's. Nonetheless, Peel did choose couple of albums from the singer as one of his top ten favourites of the year, especially Gangster Is Back for the 1976 Top Ten Albums and A Real Mother For Ya for the 1977 Top Ten Albums. After the 70's, Peel continued playing much of Johnny's music material, even well past the singer's death in 1996, when many of his songs were available on compilation albums issued by Ace Records.
Shows Played
1976
1977
1979
1980
1983
1988
1995
1996
2000
2002
External Links
Community content is available under
CC-BY-SA
unless otherwise noted.