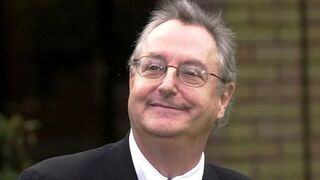 Jonathan King
(born Kenneth George King; 6 December 1944) is an English singer-songwriter, record producer, music entrepreneur, and former TV and radio presenter. King first entered the music industry with his 1965 single "Everyone's Gone to the Moon", which reached no 4 in the UK and no 17 in the USA. He followed this with several record releases, of which four made the UK Singles Chart Top 10 in the 1970s. Many were "novelty" records credited to pseudonymous bands such as
Babies On Razorblades
. In parallel with his own recording career, in the late 1960s and 1970s King produced other acts. He discovered and named
Genesis
(who, like him, had attended Charterhouse) and he produced the
Bay City Rollers
' first single, among others, before founding his own record label, UK Records, in 1972. A significant signing was
10cc
who were with the label for their first hits. In the 1980s and 1990s King became more involved in media work and regularly appeared as a presenter of British television programmes including Entertainment USA. King was sentenced to seven years in prison in 2001, after being found guilty of committing sexual offences against five boys aged 14 and 15 during the 1980s. He was released on parole in 2005: a further trial in 2018 for sexual offences against teenage boys collapsed due to errors by the police. King has always maintained that he is not guilty of the offences which led to his convictions.
Links To Peel
In the mid-1960s, Jonathan King was briefly famous as a singer after the chart success of "Everyone's Gone To The Moon", but didn't develop his recording career. Instead, he established himself as a kind of "intellectual" among the pop pundits of the Swinging London era. due to his Cambridge University background which made him unusual in a teen-dominated pop scene (even if he was still an undergraduate when he came to fame). He wrote a column for Disc and Music Echo, a pop weekly which Peel would later write for, and frequently expressed provocative opinions. In an August 1967 column, written just after Radio London had closed down, he praised Peel:
"John Peel. Host of the Perfumed Garden. I meant to comment on the tremendous atmosphere of this show many weeks ago. I foresee a return of it. I predict great success for John Peel. Am I right?"[1]
When Peel joined Disc the paper would sometimes run his column and King's side by side, hoping that their contrasting views would provoke letters from readers. King never shared Peel's respect for hippy culture, and disliked many of the artists the DJ played on his programmes, such as the Doors. Responding to King's criticism of the band, on an early Top Gear he quoted the warning given on London Tube trains, "Obstructing the doors causes delays and can be dangerous", before playing a Doors track.
Peel had met Jonathan King when King was presenting a TV show on the BBC (he also occasionally reviewed new releases on Radio One). On his 04 February 1968 BBC Radio One show, Peel admitted stealing King's Steppenwolf LP:
"And I'd like to say thank you to Jonathan King, famed TV personality, from whom I've just nicked an LP from Steppenwolf, who are a Los Angeles group we may hear on the programme perhaps next week if the LP is as nice as the sleeve. And also he came in with Kenny Everett, whose programme precedes ours."
But by 1969 King, while still admiring Peel as "a sincere, humorous and good disc-jockey", was beginning to have doubts.. Observing the audience at certain London "underground" clubs, he wrote:
The kids look ghastly — colourless, unoriginal, badly dressed. No brightness, no individuality, they lurch about, and bumping around out of time, unrhythmically on the dance floor.
He describes Peel's influence on them:
Unfortunately he has more power than the whole of the rest of Radio One. His influence over the mini-teens (and I believe, more and more, that he is losing his hold over the intelligent 18 year olds upwards) is immense. They respect and idolise him....
However, he continues:
It's pathetic. Sad and pathetic. What a waste! It's not John Peel's fault. His intentions are good. No —it's the fault of a much less concrete and much more evil figure.[2]
- whom King calls "Mr Tambourine Man", in a veiled reference to the drug scene ("catch them young, turn them on").
Within a couple of years Peel too would begin to question his guru-like status as "king of the underground". He also widened his playlists to incorporate many different genres, at times even the kind of commercial novelty pop with which Jonathan King became associated..
Throughout the 70's, Peel would play many acts produced and discovered by King such as Genesis and 10cc on his shows. In the early 80's, the duo would work together on Top Of The Pops, where Peel would be in the studio and Jonathan King abroad either in mainland Europe or North America counting down the charts from those areas. Peel was not a fan of Jonathan King's solo music career and on TV Hell: Rock Bottom in 1992, he proclaimed:  :
"If there's been one name in the world of trash pop that set the gauge rising more readily than any other, it must be that of a man who in the age more enlightened than ours, would have been burnt at the stake. I'm talking about Jonathan King. I wish he was still making records. I really do."
This was a couple of years after King had released a tribute to Margaret Thatcher, "We Can't Let Maggie Go", after Thatcher's resignation in 1990. (It was based on "I Can't Let Maggie Go" by Honeybus, which the band had recorded for a Top Gear session in early 1968, before it became a hit single.) However, Peel did play an advance copy of a Jonathan King record; a cover of Bob Dylan's 'The Times They Are A Changing' under the pseudonym Babies On Razorblades which was aired on 31 March 1981. After the record was played, Peel mentioned not knowing anything about the artist. There are questions on whether Peel would have played the record on his show if he had known that Jonathan King was the man behind the name. Nonetheless Peel praised King's personality on a BBC Radio 2 documentary called Jonathan King at 50, broadcast in 1994 to mark King's landmark birthday. After Peel's death, Jonathan King paid tribute on his YouTube video, where he told the story of how he and Peel saw Courtney Love at the Reading Festival.
Shows Played
1981
1984
Other
TV Hell: Rock Bottom: Everybody's Gone To The Moon / It Only Takes A Minute (under the name of 100 Ton And A Feather) / Una Paloma Blanca
See Also
External Links
Community content is available under
CC-BY-SA
unless otherwise noted.