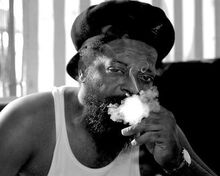 Oscar Hibbert (25 August 1958 – 11 April 2005), better known as Junior Delgado, was a reggae singer, famed for his roots style.
Born in 1958 in Kingston, Jamaica, Junior Hibbert (as he was then known) performed in talent shows before forming the group Time Unlimited in the early 1970s, the group recording for Lee Perry and Duke Reid and having a hit with "Reaction".
He recorded solo material in the mid-1970s with Rupie Edwards (both as Junior Hibbert and The Heaven Singers), and the group also recorded for Tommy Cowan and Bunny Lee before Hibbert left the group and began recording as Junior Delgado. He recorded for Winston Holness ("Everyday Natty") and recorded "Every Natty" under the name Jooks, before finally finding success with Dennis Brown's DEB label.
Links to Peel
One of the many roots reggae singers that Peel played since the 1970's. The singer came to prominence during the punk era in the UK, where Peel played many roots reggae and punk tracks on his programmes, including material from Junior Delgado.
Shows Played
1970's
1990's
2000's
External Links