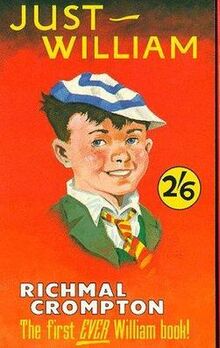 Just William is the first book of children's short stories about the young school boy William Brown, written by Richmal Crompton, and published in 1922. The book was the first in the series of William Brown books which was the basis for numerous television series, films and radio adaptations. Just William is also sometimes used as a title for the series of books as a whole, and is also the name of various television, film and radio adaptations of the books. The William stories first appeared in Home magazine and Happy Mag.
Links To Peel
Peel mentioned on It Makes Me Laugh that he was forbidden to read the Just William Stories at Shrewsbury School. In an interview with Third Way magazine, published in May 2000 [1], he revealed that his wife Sheila, used to read him the Just William stories in bed before going to sleep. So much of a fan of the stories, that Peel named his first child, William Ravenscroft, after the school boy character.
External Links
Community content is available under
CC-BY-SA
unless otherwise noted.