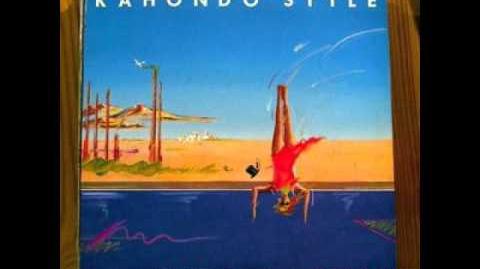 Kahondo Style were an London-based experimental band who formed in the early 1980s and made two LPs, both put out by the French Nato record label, which also released albums by Lol Coxhill.
The band's debut LP, 'My Heart's In Motion' (1985), featured the vocal talents of Frank Chickens singer Kazuko Hohki, who had departed by the time of the follow up, 'Green Tea and Crocodiles' (1987).
Links To Peel
Both of the band's LPs were found in Peel's record collection when details were first made available via TheSpace website in 2012. He was sent the first of these by the band's Japanese vocalist Kazuko Hohki, along with a letter that he mentioned when he played a track on his show of 24 July 1985.
In the letter, dated 1985-07-11 and later released as part of the John Peel Archive on Flickr, Hohki said:
"We formed the band a long time ago (it existed before chickens) but recently it's got more together ... I think this band is such fun. I'm opened up for improvisation through this band but songs are brilliant, too." [1] [2]
Festive Fifty Entries
Sessions
Shows Played
1985
24 July 1985: Tokyo Ondo (LP – My Heart's In Motion) Nato (The Kahondo Style record has arrived with a letter from band member Kazuko Hohki, who thanks Peel for his holiday postcard.)
1988
See Also
External Links